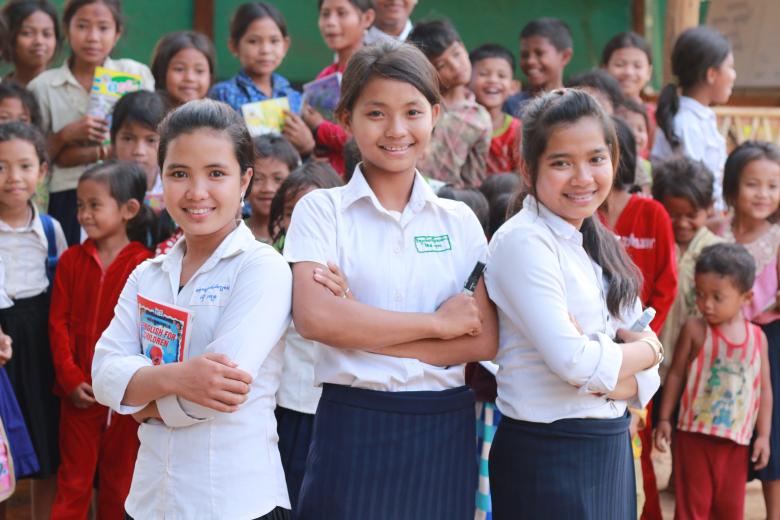 Students at school, Teachers at home
Friday, July 3, 2015
Leading double lives, Chanrea, Reaksa, Sokha and Na sport matching white shirts and blue skirts by day at school, but take turns in their free time to teach English and Khmer literacy to children aged three to 14.
"It's exciting to see them improve from knowing nothing about English to knowing some words."
Of her extracurricular pupils, 15-year-old Chanrea says: "It's exciting to see them improve from knowing nothing about English to knowing some words."
Also 15, Reaksa adds: "And others who couldn't read before are now good students in class."
The children used to just play at home, but now they spend their time learning about literacy, English and mathematics in informally run classes.
"They make friends when they come to the lessons and also learn about hygiene and sanitation," Reaksa explains.
The four teenage girls' classes belong to a World Vision-founded youth club and are strongly committed to improving their community through the classes, which run every day during the summer.
Chanrea says: "The lessons have not only helped our students, but also improved the teachers' English and given us experience of contributing to society."
Such extra education wasn't available when Chanrea and Reaksa were young, so they just stayed at home after school and did nothing to grow mentally or physically. "I wasn't lucky like my students," says the latter of the two teenagers. 
The free lessons are optional, but many children enjoy attending to learn and make friends. Leaving their bicycles in the yard outside their metal-framed, tarpaulin-walled centre, the voluntary students practise pronouncing English letters and their reading and writing skills.
"They love to be in the club," says Reaksa. "I just tell them there's a class on today and they come."
"One of World Vision's staff asked if we wanted to form a club," she continues, "and the result is what we have today."
Over a quarter of Cambodians are between 14 and 30 years old, with these young people being the agents of change. World Vision International in Cambodia empowers such citizens to be creative for the next generation by establishing community youth clubs.
Crucially, the clubs develop life and communication skills, entrepreneurship and vocational abilities, while also offering training in financial management and leadership.
In 2014, World Vision partnered over 1,200 youth groups to lead activities addressing nutrition, education and child protection within communities.