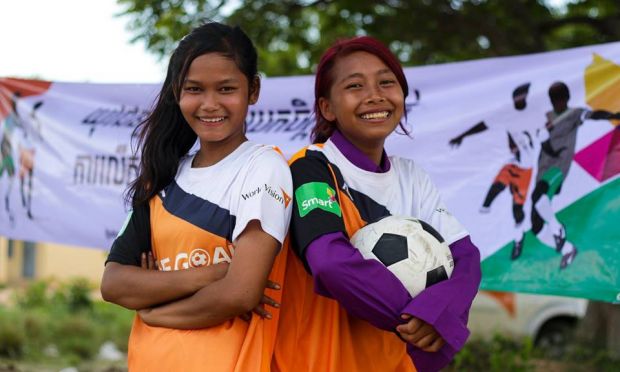 Over 300 youths were took part in a football tournament at district level in three different areas: Takeo, Battambang and Preah Vihear.
The event, which took place from 4 - 7 April 2017, is organized as part of the greater "One Goal" programme supported by World Vision Cambodia and mobile telecommunications company Smart Axiata.
Slogans such as "youth are future leaders", "sports help youth stay away from drugs", "together for the creativity of youth", and "sports for health and knowledge" were created by supporters and displayed on banners surrounding the football fields.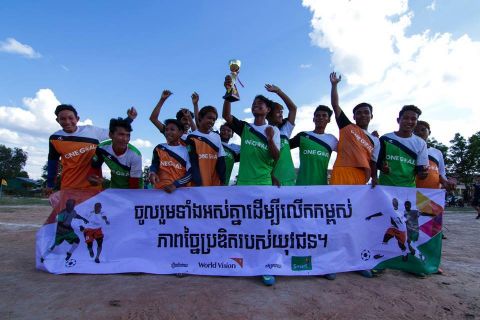 One Goal aims to engage with and empower vulnerable youth to stay away from risky behavior due to alcohol, drugs, migration, trafficking and unsafe sexual relationships. The programme also enables them enjoy healthy development. Through life skills sessions and football training, One Goal helps the youths to gain better self-identity, be aware of risks and how to have positive relationships with their friends, parents and people in the community.
The project is helping us shape a healthy future. It brings us away from violence, drugs and gangs
Throughout the programme, the youths will receive technical football training and support from the Sports and Leadership Training (SALT) Academy.
Sarith Krorn, Programme Coordinator for One Goal in Koh Andeth district in Takeo province, said, "We believe that sports is a great tool to engage and support youth development including physical and social development." The 120 youth participants from Koh Andeth live close to the Cambodia-Vietnam border, where they could be lured into the trap of illegal migration.
Toch Ten, one of the 95 participants to join the project in Koh Krolor district, Battambang province., used to spend time consuming alcohol with friends. Now, he and his friends spend time together learning about unity via football, and also learning about life through vocational skills.
Lisa, a 13-year-old girl from the same province under team Chhnam Moan, said: "Playing football means a lot to me. It helps us get to know each other and builds solidarity as a team. Furthermore, I have learnt life skills which help me discover myself better."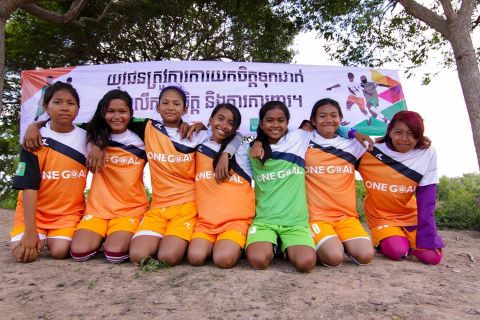 Chiva Sok, 18, also from Koh Krolor, loves to play football as a routine. "I found football could help me release stress and make me happy. Football can inspire change in the behavior of those who lack education. Before engaging in the programme activities, I wasted time on useless activities with friends."
Living in the northern Cambodia district of Rovieng in Preah Vihear province, 260 kilometers from Phnom Penh, the 110-strong contingent were happy to share how their One Goal experience has been so far. "The project is helping us shape a healthy future. It brings us away from violence, drugs and gangs," said 18-year-old Theara Sorn.
Youths between 15 and 30 years old make up 33 percent of the Cambodian population, a high percentage for that age group. World Vision believes Cambodia needs to invest in working with the young generation to shape a positive future for themselves and the nation as a whole.
Additional reporitng by Norn Louert