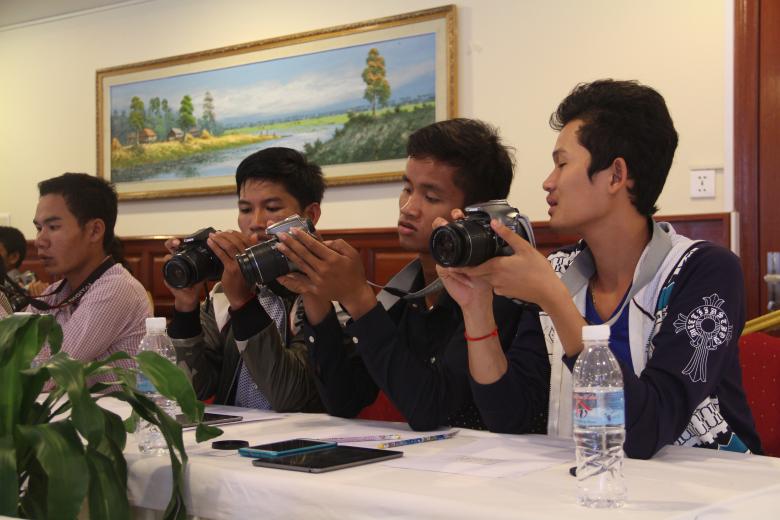 Youth Photography
Thursday, August 27, 2015
World Vision International in Cambodia has partnered with i-Qlick to increase the amount of youth learning about photography. 95 youth from three different areas, Preah Vihear, Kampongthom and Phnom Penh joined the training program.  
The goal of the training is to empower a generation of youth to be creative and active citizens and to prepare the next generation of leaders in Cambodia.
There are three groups of training sessions, each lasting two 9-hour sessions. The three groups are scheduled for separate, consecutive weeks. All the sessions will be in Phnom Penh Cambodia. Mr. Tang Chhin Sothy, an AFP photo journalist volunteered to be a facilitator for the workshop.
75% of the things that are taught here are completely new to me.
With a camera in hand, like other 30 students from Preah Vihear, Sin Ratha, 26, youth leader expresses, "75% of the things that are taught here are completely new to me. Before I did not know how to use a camera, but now I know how to set functions like IOS, Shutter Speed and capture good frames for the photos. I will teach this skill to the rest of my group who did not have chance to come here. I will show my photos around my community as well as any events in my community."
Mr. Chhin Sothy says, "photography is useful for community development through photo exhibitions, awareness poster and print materials," "I would encourage them to practice more and keep learning in order to be good photographers."
The photography capacity building training is an example of the private sector partnering with an NGO to better prepare young people for the world they live in. The courses are also empowering them to think and act creatively and explore their creative potential in ways that they ordinarily would not have the opportunity to do.
Photo credit: Vande Prom