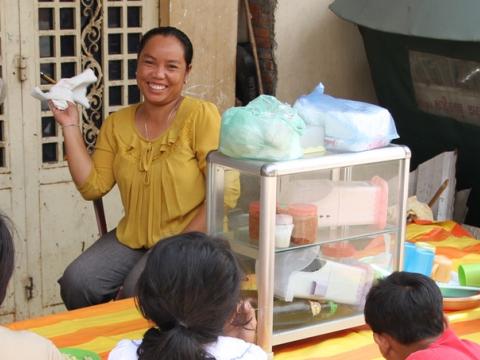 Grants and special projects
We aspire to the highest levels of best practice and accountability in all that we do. See how communities across Cambodia are benefitting from World Vision's partnerships.
-- Agriculture Cooperatives, funded by the Australian Department of Foreign Affairs and Trade (DFAT) - Australian NGO Cooperation Program (ANCP) and the Thank You Group, are helping improve livelihoods for the well-being of their children in nine target provinces by 2019. The ultimate goal of the project is contribute to the improvement of child wellbeing through improved livelihood of poor and vulnerable households.
Learn about the project through Savy and Sreymach's family.
Learn about the project through Ravy's family
-- A nutrition programme funded by United States Agency for International Development (USAID) aims to reduce malnutrition of children under five years living in urban slums of Phnom Penh through a combination of community led growth monitoring, behaviour change activities and community responses to malnutrition. Read more...
-- A donation of 1,000 solar lanterns by Panasonic Corporation will improve the quality of education of school children up to grade 6 or higher and will also promote self-learning at home to more than 12,000 children and youth. Read more...