Our strategy is to invest in improving the well-being of children living in poor and marginalised communities by focusing on four priorities: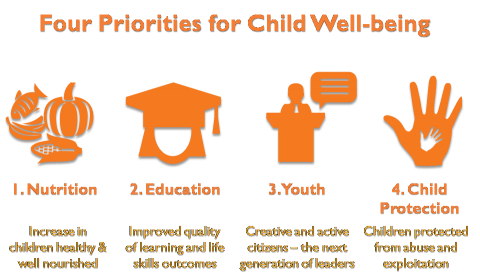 ________________________________

Context
Malnutrition is perhaps the greatest development challenge affecting children in Cambodia. Of children under 5 years old, 40% are stunted through chronic malnutrition, 28% are underweight and 11% are wasted. Although some progress is evident in recent years, malnutrition rates remain stubbornly and alarmingly high.
Our approach
Many different factors contribute to malnutrition. Therefore we take a multi-faceted approach to address the problem, working with the Government and other national and local partners in four key areas:
Helping families to develop year-round access to nutritious food

Supporting caregivers in adopting improved feeding practices for infants and young children

Working with communities to help them protect children from infection and disease through improved management of diarrhea and better access to clean water and sanitation

Supporting the Government to improve the implementation of national nutrition policies

Context
There has been an encouraging improvement in access to primary education in Cambodia. Nevertheless there are still very serious structural issues in the education system characterised by a shortage of facilities especially at secondary level (46% of communes have no lower secondary school; 25% of districts have no upper secondary), poor quality teachers (58% have only a primary or lower secondary education) and low levels of remuneration.
Our approach
Acknowledging the long term challenges faced by the Government in addressing a weak education system, our focus is on working with the Government and with other partners to help lift the quality of children's learning and the life skills they develop within the present context. We do this by:
Encouraging greater community engagement in the education of their children to strengthen the governance and management of local schools, and to mobilise available resources to support teaching and learning
Enriching learning through innovative teaching methods and resource-rich classrooms
Supporting the Government to strengthen the implementation of education policies

Context
Cambodia has an unusually young population (53% are under 25 years old). Despite high rates of economic growth employment prospects remain poor, and youth in urban and rural areas are vulnerable to the destructive influences of gang violence, widespread access to hardcore pornography and the proliferation of drug and alcohol abuse. Nevertheless there is exciting evidence that, when empowered, young people are becoming an increasingly important catalyst for change in Cambodia.
Our approach
Through our work in the community we seek to foster an environment in which adults in the community mentor and support youth and children in a way that mobilises and engages the whole community. Key aspects of our approach include:
Use of digital media in a way that inspires youth, that helps them engage meaningfully in feedback and learning loops that drive awareness and improvement, and that enables youth to connect with each other and multiply their impact.

Encouraging youth to be active participants in the development of their community by translating needs and issues into media that create community discussion and enable tracking of progress

Creating sustainability by equipping young people as responsive, connected citizens with the identity, capacity and confidence to make a difference.

Context
In Cambodia significant numbers of children are vulnerable to abuse, exploitation, neglect and other forms of violence. Over 1.6 million children 5-17 years old are in child labour, majority of which are believed to have been trafficked (85 percent of children migrating to Phnom Penh are seeking job). At least 200 under-aged girls enter into sex industry per year. High percentage of boys and girls have experienced domestic violence. Street children and children living in institutions are also vulnerable. These issues are compounded by problems with inadequate social services (1 district social worker to 25,000 people), police enforcement and judicial systems in handling cases that involve children.
Our approach
We recognize that effective protection of children requires a system of coordinated formal and informal elements working together to prevent and respond to abuse, neglect, exploitation and other forms of violence against children. We work with partners at different levels to seek to strengthen the Cambodian child protection system with the aim of seeing:
greater prevention of abuse through positive community attitudes and behaviours

more effective protection of vulnerable children through community based mechanisms and child-focused policies

more profound restoration of survivors of abuse through community-based restorative care.