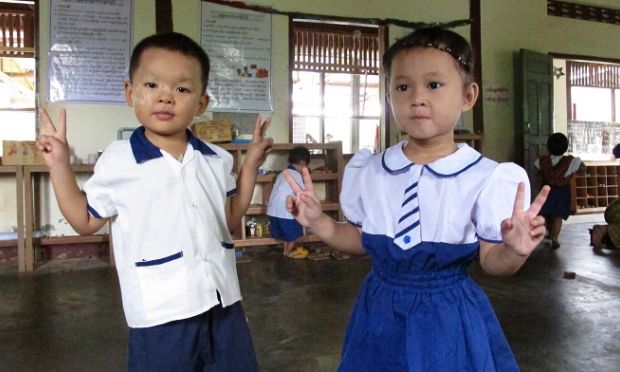 Off the main highway, there is a road leading to a village in Kaying State, in the southern part of Myanmar which borders Thailand to the east.
About one third of the population, mainly working-age youth and adults, migrate to Thailand for work, leaving their small children at home with their ageing parents.
The presence of an Early Childhood Care and Development (ECCD) centre in the village allows grandparents to work at home without concern. It also helps the children to grow physically and emotionally.
Thirthy-three children attend the Pwint Thit Sa (meaning Newly Bloomed) ECCD centre to learn and play. One of them is Thein, a four-year-old boy who enjoys his time with teachers and friends. His favorite game is to ride on a wooden toy with wheels. This is his second year attending the ECCD centre, but it wasn't long ago that he was afraid of strangers.
To ensure Thein's success, Nan, a 25-year-old, caregiver at the centre, went the extra mile to help this young boy feel comfortable in school.
Thein sits with Nan another other children at the ECCD centre. (Photo credit: Thet Kaung Myat Oo / World Vision)
"When Thein first arrived, he didn't talk and didn't play with other children," says Nan. "Though he didn't cry, he just stayed in the corner and watched the other children. He never replied to anyone who talked to him."
Thein's parents work in Thailand, so he was living with his grandmother and aunt. Although he was active at home, he was afraid of meeting new people.
However, Thein trusted Nan. He wouldn't eat with the other children, so she would feed him alone. If he wanted to use the bathroom, he secretly came to her for help to bring him to the toilet. "He wouldn't sleep if I didn't stay beside him," says Nan.
With the support of his caring teacher, Thein started to join the other children in playing and singing songs.
"It took four to five months to help make Thein comfortable at the centre. I sometimes felt frustrated having to pay attention to just one child, but now I am glad that I did," says Nan. "Thein eats by himself, sleeps by himself and plays with others."
Thein is enjoying a social life with other children. He will soon turn five, ready to join primary school.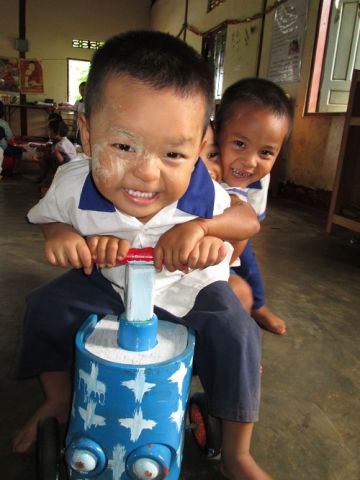 Thein is now happy to make friends, play and participate in class. (Photo credit: Thet Kaung Myat Oo / World Vision)
The ECCD activities began in 2004 but operated in a monastery. With support from World Vision, the community constructed a centre in a post-primary school compound. The centre was completed in 2007. Nan has been working at Pwint Thit Sa center for five years.
"I don't want to see children tending cows and youth going to Thailand," says Nan. "I want to see the children become the educated leaders for our village."
Related links: