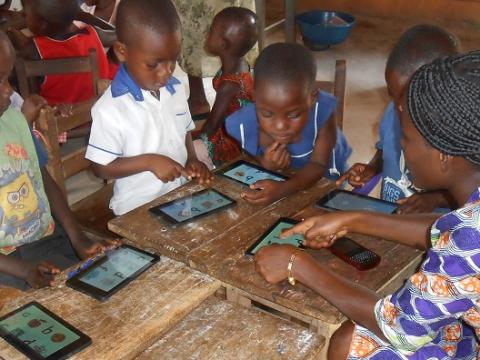 Education Technology (ICT4E)
Education technologies (ICT4E) provide unique opportunities to address many education challenges in the developing world, fragile states, areas affected by infectious diseases and conflict environments, leading to improvements in student learning and life skills.
Technology investments have the ability to support education programming when implemented in a strategic and contextualised manner. Technology has the potential to help strengthen evidence-based programming already in place by:
Expanding access and equity to resources and programming
Improving efficiency and quality of data collection for monitoring and evaluation (M&E) activities
Diversifying teaching techniques for different learning styles and abilities
World Vision is exploring ways in which technology innovations can strengthen education programming and contribute to child well-being.
Learn more about World Vision's work in education technology.
All Children Reading
World Vision US and Australia, in partnership with USAID and the Australian Government, launched All Children Reading: A Grand Challenge for Development. The global grant and prize competition seeks innovative ideas that leverage the transformative power of technology to leapfrog existing challenges that are preventing children from learning to read.
Learn more about All Children Reading.
Girls and ICT4E
Technology skills are vital in education and business, but women in sub-Saharan Africa are disproportionately left behind in accessing the Internet and the benefits it holds. Only 40 million women in sub-Saharan Africa have access to and use of the Internet compared to 70 million men. This 30 million difference is sub-Saharan Africa's Internet 'gender gap.'
World Vision works with private corporations and other NGOs to get more girls and young women online to develop their digital literacy skills, improve their employability, and reduce the Internet gender gap.
Related links: