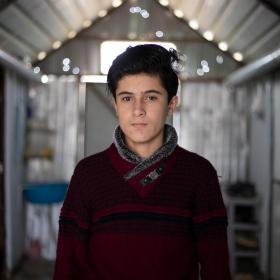 Raise your voice for Syria's children
For 10 years, our country has been at war. Many of us have lost loved ones, homes and dreams for the future.
We want to go back to school. We want safety, warm food and clean water. We don't want to lose anyone else. 
Now is the time to say enough is enough. The violence must end. We need to believe in peace again.
Please don't forget us. 
- Voices of Children in Syria
Help make voices of Syria's children be heard!
Syria Child Pledge
3 simple steps to help:
-Add your voice to the pledge
-Commit to one of the actions below
-Share on your social media using #StoriesAfterSyria!
Which action will you choose?
-Share this video to make sure the world hears children's voices from Syria. 
-Use your artistic skills like Rahma and create art that showcases peace and hope! 
-Use sport as a way to communicate peace like Ali and take a video! 
-Use your words to write a poem like 11-year-old Firas and share on social media! 
-Pray for Syria. Pray for protection, peace and for hope to be restored. Share this simple prayer on Twitter.
Syria Child Pledge
1%
62 actions taken so far
Mailchimp Subscription Form: Syria Anniversary Child Pledge
Privacy Statement
World Vision International ("WVI", 800 W Chestnut Ave, Monrovia, CA 91016, U.S.A.) handles your contact details in accordance with its Privacy Policy, which can be found here [link], as well as applicable privacy and data protection laws in the U.S.A., where the level of data protection may be different from that in your country.
The personal data you provide, such as your contact information (e.g., first and last name, country of residence, and e-mail address), will be consolidated and stored by WVI using a third party online platform MailChimp, whose official name is The Rocket Science Group, LLC in accordance with its Terms of Service. Please consult the website of MailChimp directly to learn more about its privacy and data protection practices.
If you have requested to receive more information about the petition, we will share your contact details with a World Vision office in your country of residence so that they can follow up with you directly. That office will be solely responsible for any further processing of your information, in accordance with the privacy and data protection laws in your country. If you would like to learn more about how the local World Vision office protects your information, or how to exercise any data protection rights against the office, please review the office's online privacy policy.
Syria 10 Children's Pledge