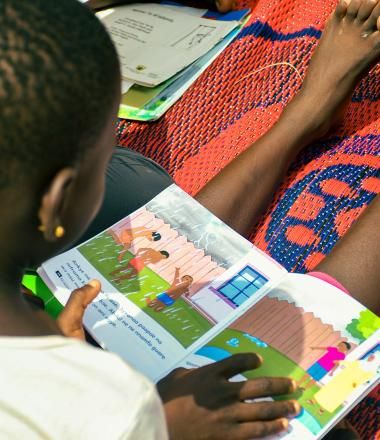 Prioritises initiatives in Education, WASH and Skills Development
Reading Improvement and Skills Enhancement (RISE) Programme
Reading Improvement and Skills Enhancement (RISE) Programme
Most school-age vulnerable children thrive and are able to read and comprehend grade-level texts. By enhancing the school environment and teacher support. Improved community networks and support of children especially out-of-school children
Our Core Models/Approaches
Unlock Literacy (UL)
Learning Roots (LR)
Citizen Voice & Action (CVA)
Savings for Transformation (S4T)
Integrated WASH Model
Child Protection & Advocacy (CPA)
Our Key Achievements
World Vision Ghana won the 2021 UNESCO-Japan Prize on Education for Sustainable Development in recognition of the Unlock Literacy Project model, which is an evidence-based, holistic approach to improving children's core reading skills.
Built about 1,221 Primary School blocks, 417 Kindergarten school blocks and 219 Junior High School blocks nationwide since 1995
Over 4,500 teachers have been trained to use improved instructional methods.
Two (2) Digital libraries were established with over 10,000 electronic books sourced from different repositories.
Over 240 after-school reading clubs in 260 communities across its operational Districts with over 250,000 story books to sustain reading among young readers
1200 android tablets have been distributed to selected schools to improve children's reading and ICT skills.
Directly supporting 24,340 children between 5-11 years to acquire basic literacy skills.
6550 bicycles have been distributed to selected children to improve mobility to school
Opportunities for Collaborations and Partnerships
WVG calls for support to undertake projects to:
Scale-up evidence-based approaches to improving the reading/literacy situation of basic school children across Ghana.
Support the publication of story books for children
Provide Library-in-a-box for children to improve their reading skills
Improve Water, Sanitation and Hygiene (WASH) in schools.
Information and Communications Technology (ICT) in schools.
Empower girls and boys who are out of school
Support the provision of school supplies (exercise books, pencils) to children
Support in the provision of sanitary products for children
Advocate for the use of evidence-based approaches in improving reading in Ghanaian Basic Schools
Ending all forms of Abuse, Violence and Injustice toward children.