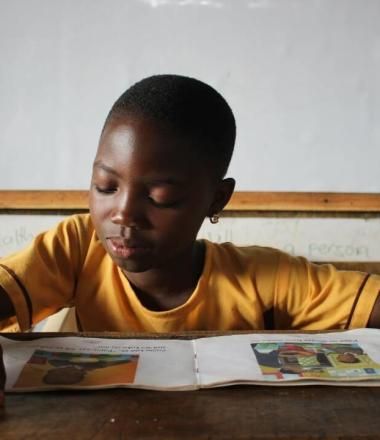 Children are educated for life
World Vision's resolve to have every child, able to read and write before a child leaves early grade is inherent in the fact that education has a potential of improving health status, incomes and crop yields and more importantly a more informed society. Over the last four years, Ghana has made significant strides in education indicators as shown by EMIS report 2018:
Gross Enrolment Rate of :116%
Gender parity :1.0
Completion Rate 100%
Though enrolment levels have increased, a measure of what children are learning does not commensurate with the improved enrolment rates, with 98% of grade 2 children unable to read with comprehension and 50% unable to identify a single alphabet letter (EGRA 2015). World Vision Ghana is collaborating with Ministry of Education and the Ghana Education Service in 10 districts to improve learning outcomes.
Our programming Approach
World Vision Ghana is implementing the Reading Improvement in Primary Education (RIPE) programme in collaboration with ten (10) district education offices in 10 of the 16 regions in Ghana. The project seeks to ensure all children from age 4-12 years, are able to read and write before they transition to grade 4 and get the support with level appropriate life skills that will make them functional and productive children growing into adulthood.
Early Childhood Education (ECD)
Early years are crucial for building the structures for a lifelong learning. World Vision implements the Learning Roots (LR) Project Model which is an evidence based approach to improve children's foundational skills. World Vision believes that the period of early childhood development has a strong and positive impact on further development and learning in later ages. We leverage our strong community presence to create safe and stimulating Early Childhood Education rich environments, support teachers with instructional methodologies, to keep children well protected and healthy, as well as empower families to support a child's education.
In 2019, Our Early Childhood Education programmes reached 23,000 children. In addition, We have:
Trained 20 ECD core group/master trainers who
trained 400 ECD teachers and
provided 6 coaching support visits to teachers in 128 ECD centres
Early Grade Reading
Reading is the key hole through which every child must pass to have an assured head count in life. However, for many Ghanaian children, this life skill has eluded them. World Vision Ghana implements early grade reading interventions in 10 districts in Ghana. Our literacy programme, the Unlock Literacy model is an evidence based literacy approach to improve children's core reading skills. Unlock Literacy supports the fact that children learn to read fast and better, when they start learning to read in their mother language. The reading skills acquired make it easier for children to learn a second language. Our literacy programme accelerates children's learning by designing, studying, supporting, and scaling up programs that enhance school readiness for children's success.
Our reading programme equips teachers with instructional skills to teach the literacy components and manage print rich child centred learning environment while engaging communities to provide additional literacy support to their children.
In 2019, our early grade reading programmes reached 30,000 children.
 In addition we:
Support reading instruction in 128 schools
Support 128 early grade classrooms with teaching and learning materials
support the training of 120 District Teacher Support Teams (DTST)
support the training of 1240 early grade teachers
Set up 320 after school reading camps
Set up 320 community library-in-a-box
Conduct 12 monthly parents reading awareness workshops
Conduct 12 coaching support visits to teachers in the academic year
Provide professional development in literacy to 8000 early grade teachers
Distributed 45,000 supplementary readers to schools and library-in-a-box
Bicycle Empowerment Project
The Bicycle Education Empowerment Project is our response to eliminating absenteeism and late enrolment by improving access to school. Children who commute 5-10km to school daily, are provided with bicycles so they are able to complete household chores and still be able to travel to school, thus reducing rates of children tardiness and absenteeism.
Once a community is selected to receive bicycles, a local bicycle supervisory committee (comprised of up to 12 members, including school officials, students, PTA members, local Community Based Organizations, and community members, church, and traditional leaders) set the criteria on which beneficiaries will be eligible to receive a bicycle. 70% of the beneficiaries are girls. Bicycles are distributed on a 3-year, service-to-own contract, where beneficiaries of the bicycles pledge to volunteer or stay in school, in return for receiving the bicycle.
The BEEP project is implemented in collaboration with World Vision Italy and World Bicycle Relief, USA. BEEP in Ghana started in the Kasena Nankana District in the Upper East Region. With a cumulative distribution of 5450 bicycles, the project has been scaled to four districts across Ghana; Nkwanata South, Sekyere East, Ahafo Ano, and Bia West districts.
Ghana Reads Project
The Ghana Reads project is a reading intervention that leverages technology to improve reading outcomes among early grade learners. The project is a scale up of the global initiative: All children reading: A grand challenge for development, which was launched by a joint collaboration between USAID, AusAID and World Vision International. The project is currently being implemented by World Vision Ghana in collaboration with Open Learning Exchange, a 2012 grantee of the grand challenge. Ghana Reads project is implemented in Fanteakwa, Krachi West, Kintampo and Afram Plains district. The project has since distributed 450 tablets to beneficiary schools and reaching over 2500 students. 
KOICA Unlock Literacy Project
The KOICA Unlock Literacy Project is a 3-year Education grant project funded by the Korean International Cooperation Agency (KOICA) and implemented by World Vision Ghana. The Project duration is set from February 2019– December 2021. The goal of the project is improving the functional literacy skills of early grade children by focusing on the following outcomes: Strengthened classroom literacy instruction in grades KG2-P3 for improved core reading skills and Increased participation of girls and boys in community and home based literacy activities.
The project is being implemented in Afram Plains South district covering all 77 schools across seven circuits. The goal of the project is to help almost 10,000 girls and boys learn basic literacy skills. In 2016, a similar early grade reading programme intervention was implemented by World Vision, in partnership with KOICA, from March 2016 to December 2018 in the Fantekwa District of Ghana. Students in the programme significantly improved their ability to read in their mother language and understand in English. After three years of implementation in Fnateakwa, 65% of children were able to read with comprehension from a baseline figure of 1%.
The project distributed over 140,000 copies of level appropriate story books through the library-in-a- box model.