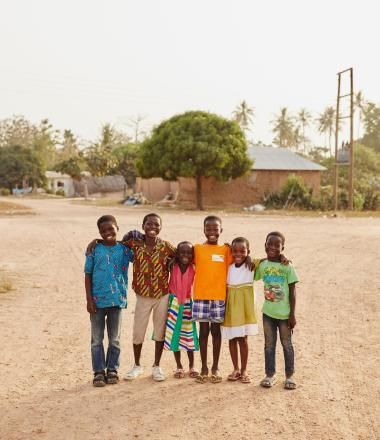 Who is World Vision?
WHO WE ARE
World Vision is a Christian relief, development and advocacy organization dedicated to working with children, families and communities to overcome poverty and injustice. Inspired by our Christian values, we are dedicated to working with the world's most vulnerable people. We serve all people regardless of religion, race, ethnicity or gender. Our integrated focus is that We are Christian, Child-Focused and Community Empowering.  https://www.wvi.org/video/world-vision-who-we-are
OUR HISTORY
World Vision (WV) started working in Ghana in 1979 with Community Development (CD) Projects across all regions in the same year. In 1985, the Ghana Water Rural Project started with funding from USAID. World Vision Ghana in 1992 shifted its approach to Area Development Programme (ADP) covering a cluster of communities and corresponding to district boundaries which led to the phase out of CD projects in 1998.  In 2019, WVG operates 22 Area Programmes and grant projects in 34 districts across 14 out of 16 regions of Ghana.
OUR VISION
Our Vision for every child, life in all its fullness: Our Prayer for every heart, the will to make it so.
HOW WE WORK
World Vision Ghana approach to work is community empowering.  All Programmes work with in close collaboration with national and local level partners including Churches, other Faiths, District Assemblies and their decentralized government departments, Non-Governmental Organisations (NGOs), Community Based Organisations (CBOs) and Faith-based Organizations (FBOs), youth groups, women groups and vulnerable groups at community level.
OUR STRATEGY
The goal of World Vision Ghana's FY16-20 Strategy is that by 2020, World Vision would have contributed to the sustained well-being of 4.5 million vulnerable children, their families and the communities in which they live. The strategy would be delivered through 4 objectives which include:
WASH:

All children, especially the most vulnerable and their families, have improved sanitation, hygiene and safe water for consumption, production and processing (Target is 1.6 million people; including 782,544 children)

Food Security and Household Resilience:

All children especially the most vulnerable and their families have improved household food security and resilience ( Target is 1.4 million people; including 684,726 children ) 

Health and Nutrition:

All children, especially the most vulnerable within families and communities, have improved health and nutritional status (Target is 553,000 children)

Education:

All children, especially the most vulnerable, have improved quality of primary education leading to improved learning outcomes (Target is 981, 000 children)