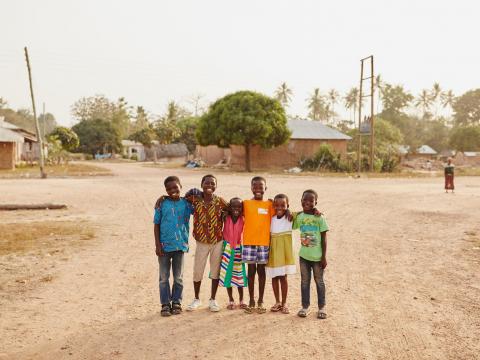 About Us
Since its independence from Britain in 1957, Ghana has not suffered civil conflict like many of its West African neighbours. Its school system is one of the best in sub-Saharan Africa. However, there are still development problems that need to be resolved.
World Vision started working in Ghana in 1979.
It currently implements 29 Area Programmes (APs) in all the 10 administrative regions in Ghana and six major special projects. The goal of World Vision Ghana is that by 2021, we would have contributed to the sustained well-being of 4.5 million vulnerable children, their families and the communities in which they live through health and nutrition, water and sanitation, education, food security, micro-enterprise development and Christian Commitments programmes.
Achievements Ghana
October 2010 – September 2011: World Vision drilled 211 wet wells out of which four prolific ones were mechanized for four communities and a secondary school. This gave 70,000 people access to safe water. 
To ensure water quality, iron removal plants were installed at four new wells.
About 62,000 people were educated on environmental hygiene, trachoma, guinea worm and malaria prevention; more than 20,000 people were also educated on safe water storage and handling.
The biggest impact of these programmes is the reduction of guinea-worm cases in the entire Northern Region. Significantly, there were no reported cases of guinea worm in ADPs which previously had cases, like the Savelugu District.
Cadbury Cocoa Partnership (CCP)
The Cadbury Cocoa Partnership Project is implemented in the Mpohor Wassa East and Fanteakwa ADPs. 
Ghana Cocoa Board provided extension services to all 35 beneficiary communities and 2,083 bicycles worth $187,470 were given to school children in those areas to help them commute to school daily. Famer-based organisations are being positioned to obtain fair trade certification. 
Neglected Tropical Diseases (NTD)
World Vision collaborated with the Ghana Health Service to implement the USAID funded Neglected Tropical Diseases Project in 170 districts from 2009 to 2011. The project covers five neglected tropical diseases, namely, lymphatic philariasis, trachoma, onchocerciasisis (river blindness), schistosomiasis (bilharzias) and worm infestation and soil transmitted helminthes. Health workers and volunteers were trained for drug administration and distribution. 
Activities successfully carried out include more than 30 million treatments for targeted people in endemic communities, community education programmes enhanced with the availability of Information, Education and Communication materials. A schistosomiasis study which was carried out has been validated. These are contributing to efforts at reducing the prevalence of these diseases to levels that are no longer of public health significance.
KOICA 
The two-year Korea International Cooperation Agency (KOICA) Educational Project has boosted education for children through the construction of 22 new schools for kindergarten, primary and junior high school children. A total of 630 teachers were supported for the Untrained Teachers Diploma in Basic Education and the provision of accommodation for six teachers have improved time teachers spent teaching children. All the beneficiary schools got furniture, libraries, teaching and learning materials and sports materials including footballs.
School enrolment has increased by 12.6 per cent while the application of new teaching methods makes pupils more active in class.
Purdue Improved Cowpea Storage (PICS) Project
The Purdue Improved Cowpea Storage Project is funded by the Bill and Melinda Gates Foundation through World Vision United States. This project teaches chemical free storage of cowpea to farmers and traders. The project targeted 200,000 farmers in the Upper East, Upper West, Northern, Brong Ahafo and the Ashanti (part) Regions. Trained research and extension staff from the Ministry of Food and Agriculture and the Centre for Scientific and Industrial Research are supporting the implementation of the project. People in the operational areas are sensitized and educated on the correct application of the technology.
Enthusiastic farmers who tried for the first time to use this technology will be able to reduce post-harvest losses and maintain the nutritional value of cowpea.