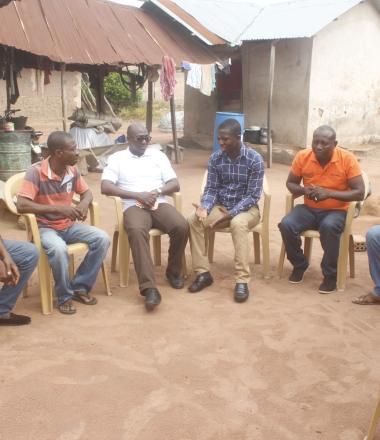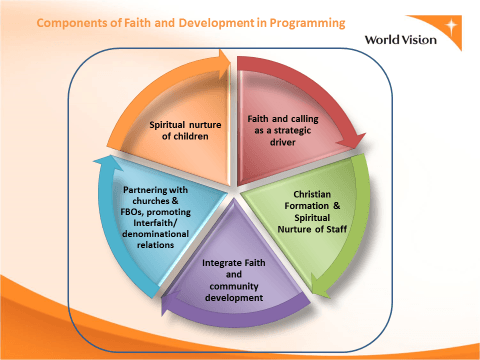 Living out our Christian Faith
World Vision's mission defines our partnership as 'followers of our Lord and Saviour Jesus Christ in working with the poor and oppressed to promote human transformation, seek justice and bear witness to the good news of the Kingdom of God.' Our global strategy calls World Vision staff to live out and communicate our faith and calling intentionally – with boldness and humility. We do so because we seek to be a witness to God's hope and unconditional love. We deeply desire to participate in God's work and pursue fullness of life for the most vulnerable children, wherever He has called us to be. In this pursuit, we seek mutually transformative relationships with children, communities, colleagues, supporters, the church and partners across the world, recognising that God can use anyone as His agent of change for His purposes.
Our Programming Approach
Faith in Development programming ensures that all children understand and experience the love of God and neighbour. As an expression of our emphasis on deepening our understanding and application of our faith in all sectors of World Vision Ghana's, programming, we pursue all the five strategic imperatives, through the following strategic approaches and commitments:
Staff live, articulate and celebrate their Christian faith in diverse, uniting and joyful ways, with deep respect for staff of other faiths and views as an expression of our Christian beliefs.

Our Christian faith guides our response to the most vulnerable children in our ministry and organisational practices.

World Vision is a thought leader and a compelling example of igniting positive and lasting change driven by faith convictions across the world, in relief, development, advocacy and fundraising.
Celebrating Families
In 2018, 5,361 people, including 1,400 children were equipped in Celebrating Families Curriculum (CFC) to enable families to enjoy positive and loving relationships, to plan and work together towards achieving their hope and vision for the future and provide a safe environment for improved child well-being.
Channels of Hope
Through the Channels of Hope Child Protection (CoH CP) engagements, 5,457 Faith Leaders (Christians and Muslims) and Tribal Chiefs were equipped to protect children in their communities and to provide healthy and secure environments for children to live life in all its fullness. A total of 5,336 community members were also educated through the "End Child Marriage Now" campaign. And, more than 200 girls projected the campaign in the communities through sports.
Spiritual Nurturing of Children and Children's Club
In 2018, more than 4,600 children received various forms of Spiritual Nurturing of Children (SNC), mainly through the Kids Clubs while 500 community members were trained in the spiritual nurturing of children and other child well-being skills to deepen children's understanding and experience of the love of God and their neighbours. In contributing to the aspiration, "Children have hope and vision for the future", a Youth Leadership Development and Resilience Conference equipped more than 200 children from the Northern Operations Region in the spiritual nuturing of children through compassionate activities and teaching them life skills (including Yoghurt, Liquid Handwashing and Bathing Soaps, and Beads making). As a result, 160 pastors and other Church leaders were equipped in Transformational Development skills and holistic ministry.
The Local Council of Churches in the communities also received training in child protection, family life, water, sanitation and hygiene elements among other project models for personal,  children, family and community development and well-being.
Empowered Worldview
In 2018, 151 people were equipped through the Empowered Worldview (EWV) curriculum for mobilizing, organizing and empowering individuals, households, and communities to break dependence and enable them to become active agents of their personal and community change through biblically-based mindsets and world view changes. Community education on the model reached 8,250 people (7140 parents, 390 youth and 720 children). Beneficiaries have been establishing businesses and expanding their farms. As a result, communities are experiencing increased enrollment in schools' due to the improved livelihoods of parents and churches supporting the sustained livelihood of their members.
Water Sanitation and Hygiene (WASH) Sermon Guide
In Ghana, World Vision published and launched a WASH-focused Sermon Guide, the first of its kind in the nation, to equip Faith Leaders with Biblical concepts and approaches of redressing WASH issues/ challenges in their communities More than 700 Faith Leaders received copies of the Guide were trained to impact their communities and congregations through positive messages.
Staff Spiritual Formation
This foundational element of who we are as World Vision permeated our offices and helped our staff incorporate their faith and calling with boldness in humility in every area of our work.