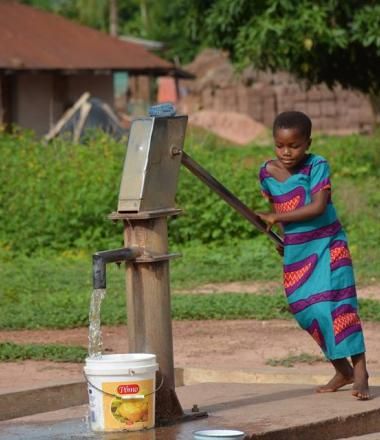 WATER, SANITATION AND HYGEINE
Water, Sanitation and Hygiene
What is the problem?
While Ghana, as a country, has made tremendous achievement in the water supply sector, there are still huge gaps in sanitation & Hygiene behaviour change processes. Ghana has achieved 89% access to safe water, but the access to improved sanitation coverage is only 15% (JMP 2015). Many schools and health care facilities also lack access to improved sanitation and hygiene facilities.
Despite higher level access percentage at the national level, the 2017 assessment carried out by the University of North Carolina (UNC) indicated that the safe water service level in the operational areas where World Vision is working in Ghana is 66% indicating the gap & need for additional interventions.  Likewise, the AMIC 2018 survey indicated that the proportion of households in World Vision Ghana operational area using improved sanitation facilities for defecation is 20% and only 17.6% of households have access to hand washing facility with soap & running water at a designated place.
What we want to do:
The strategic objective of World Vision's Water, Sanitation and Hygiene (WASH) Technical Program in Ghana is to ensure that all children, especially the most vulnerable and their families, have access to dignified sanitation, hygienic practices and safe water supply.
How is World Vision addressing the issues?
In Ghana, World Vision is implementing an integrated Water, Sanitation & Hygiene Program addressing the gaps. This is happening by driving a strategic business plan which identifies the interventions planned under Water, Sanitation & Hygiene (behavior change) sectors in the communities & institutional settings. Our work also considers training key district & community level actors to ensure the sustainability of the WASH facilities through proper management and use.
What are the results?
Over the years, a considerable number of people have received sustainable access to safe water service.
World Vision's approach to community engagement for sustainable water, sanitation, and hygiene projects deliver long-term solutions. A 2014 study conducted by the University of North Carolina and Sanitation for Africa showed that over 30-50% of water points provided in the developing world fail between 2 and 5 years following implementation. World Vision's water points, however, tend to last much longer. The study by showed that 79% of World Vision wells continue to function 20 years later!
Sanitation in World Vision's Operational areas in Ghana has also improved. As a result, the percentage of children who live in households with access to improved sanitation facilities increased from 45% in 2017 to 53% in 2018.
What's the impact?
•         An estimated 3650 boreholes have been drilled & equipped with hand pumps
•         Over 80 solar & grid powered mechanized systems constructed
•         Estimated 1.4million people have gained access to safe water
•         More than 300communities have been declared open defecation free