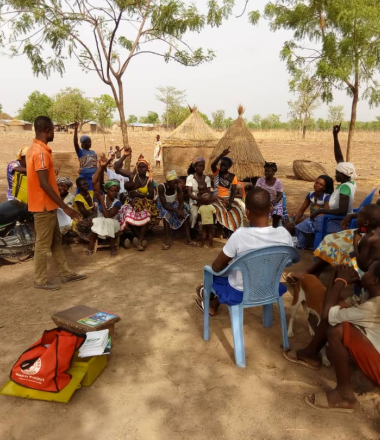 Food Security and Resilience
Why Food Security?
According to the UN, FAO, WFP and World Bank, 805 million people in the world do not have enough food to eat and 791 million (98%) of this figure reside in developing countries including Ghana.
The number of people who die from hunger in a year is more than that of AIDS, malaria and TB combined (WFP, 2017). Each night, 1 in 9 people go to bed hungry (The Economic Times, 2015). Ghana Statistical Service, reports poverty rate in Ghana as 23.4% in its Ghana Living standard survey in 2017. UNICEF (2016) also reports that one (1) in ten (10) children live in extreme poverty and 1.2 million children live in households that are unable to provide adequate food. FAO (2012) estimated that nearly 870 million men, women and children were chronically food-insecure – in other words, they did not eat enough nutritious food each day for a healthy life. This situation creates crisis with far reaching effects.
Hunger weakens immune systems and stunts children's cognitive and physical development. The majority of the world's food-insecure people are women and children who rely on agriculture as their primary source of food and income. Like most of the other West African countries, Ghana is also affected by climate change, manifested mostly in the form of higher temperatures and lower rainfall, heightening the risk of droughts and wildfires. Other frequent natural calamities include floods, and pests (locusts and fall army worm). Chronic hunger and under nutrition result primarily from poverty. Without enough food, adults struggle to work and children struggle to learn, posing severe challenges to sustainable, long-term economic and social development. With the growing population of more than 29 million, Ghana's poverty rate stands at 23.4% (GLSS, 2017) with a wide inequality gap between rural and urban areas. This indicator shows a lot of Ghanaians are living below the poverty line. Poverty remains a rural phenomenon with household heads being farmers remaining to be among the poorest in the country, making it difficult to support their own families. Poverty remains to be one of the root causes of all child well-being issues.
It is in light of this persistent deprivation facing the majority of the vulnerable people each year that ignited World Vision to take action in terms of what we can do to help improve the situation. What kind of program design will address these issues? How can we live out our vision and mission to address hunger, food insecurity and malnutrition? How do we understand God's provision in the face of so much hunger?



Why is addressing hunger important to World Vision?

Our Christian, child-focused and community based identity compels us to promote more resilient livelihoods so that families and communities will be able to sustain their own well-being and better care for their children. As World Vision, we want to see every child have the opportunity for 'life in all its fullness'. As such, we must ask ourselves: What can we do as an organization does to address the root causes of hunger? How can we integrate other sectors to ensure that children are fed well and parents and caregivers are able to provide well for their children?



What is World Vision doing to improve food security and resilience?

World Vision approach to food and livelihood security aims at improving child wellbeing by assuring family well-being and the parents' ability to provide. We achieve this through addressing the root causes of food insecurity. Addressing long-term food insecurity for poor smallholder farmers throughout most of the communities where WV does agriculture and livelihood programming will increase/restore assets and resources where they are limited or depleted (for example, trees have been removed from the landscape, soils have become infertile and severely degraded and families have no savings). This will give more options to families to improve their livelihood. World vision implementing model that help farmers increase productivity, increase income and have easy access to credit.



Food Security & Resilience Objectives

:


MAIN OBJECTIVE:
All children, especially the most vulnerable, and their families, have improved household food security and resilience.

SUB-OBJECTIVEs:
Improved production and productivity of crops and livestock

Increased economic opportunities for the youth and women

All children especially the most vulnerable live in communities with increased resilience to climate change and

disaster

Increased resilience to economic shocks

All children especially the most vulnerable live in households with improved food utilization



Cross cutting Issues
Gender

Environment

 Peace building

Disability

Faith and Development

End Child Marriage Campaign



Contribution of food Security & Resilience to Sustainable Development Goals (SDGs)
SDG1: No Poverty

SDG2: Zero Hunger

SDG 8: Decent Work and Economic Growth

SDG10: Reduce Gender Inequalities

SDG12: Responsible consumption and production

SDG 13: Climate Action

SDG 15: Life on Land



Contribution of Food Security & Resilience to Regional and Global Initiatives
Comprehensive Africa Agriculture Development Programme (CAADP)

Global Agriculture and Food Security Program (GAFSP)

AFR100

 (the African Forest Landscape Restoration Initiative

The Great Green Wall Initiative

Global Food Security Strategy



Target Beneficiaries

World Vision Ghana targets to reach 1,400,000 (684,726 children and 715,274 adults) by 2021 in its programing



Food security Area Programmes (APs)
Bawku west AP

Garu AP

Talensi   Talensi AP

Jirapa AP           

Saboba AP

Gushiegu AP

Karaga AP



Food security Grant Projects
Farmer Managed Natural Regeneration (FMNR III) and Livelihood Project in - Talensi AP- Funded by Australian NGO Cooperation Program (ANCP)

Cocoa Life Project - Bia, Juaboso, Ahafo Ano North, Sekyere East, Awutu Senya, Wassa East funded by Mondelez International in partnership with World Vision Ghana

Reversing Land Degradation in Africa by Scaling-up Ever-Green Agriculture in Bawku West funded by European Commission(EU)



Our Programming Approach

The vehicle of ministry delivery is through WV Technical Programme which is anchored on the domains of Development Programming Approach, Child Well-Being Aspirations, Child Well-Being Targets and Child Well-Being Outcome which are community-based approaches to ensure sustainability. The Technical Programme aims at increasing the capacities of families to provide for the basic needs of their children. Technical expertise of staff helps to implement the approved operating models and approaches. Some models are:
Savings for Transformation (S4T)

Farmer Managed Natural Regeneration (FMNR),

Building Secure Livelihood (BSL)
Local Value Chain Development (LVCD)

Micro Finance Institutions (MFI),
Child Protection Advocacy, Citizen Voice Action (CVA),
Savings for Transformation (S4T) – the model aims at promoting and establishing financial inclusion through self-help Savings Groups formation and sustainable internal borrowing and lending among group members
Building Secure Livelihood (BSL) – The BSL project model is a holistic co-ordinated food security intervention that seeks to address multiple, interwoven and overlapping dimensions of child well-being by enabling parents and caregivers to provide sustainably for their children. It is founded on the concept that poverty is not just a product of low income only but also of a wide range of social, economic and environmental constraints. BSL is an integrated approach that drives economic and social empowerment while ensuring sustainable natural resource management and disaster risk reduction (DRR) within the same group of beneficiaries. The BSL project model promotes an empowered world view, financial and economic inclusion, a culture of preparedness and future planning, increased productivity, profitability, and sustainable management of all resources (natural, social, economic capitals). Specific interventions include but are not limited to regular savings development, sustainable and profitable agriculture, natural resource management, risk mitigation and disaster recovery, managing short-term shocks and stresses, local value chain development, and access to and effective use of local financial services and markets
Farmer Managed Natural Regeneration module (FMNR) – FMNR is a an environmental re-greening module that depends on the regeneration/sprouting of natural occurring tree stumps and roots just above or below the soil surface. The community employs a careful and systematic approach of pruning these stumps and roots as they grow to maintain   certain optimum density that ensures the canopy cover is sufficient enough to create the conducive environment for the growth of fauna and other flora. The model aims at promoting sustainable Natural Resource Management among target project participants using established FMNR implementation approach.
Local Value Chain Development model (LVCD) – The Local Value Chain Development (LVCD) is a market-based approach in linking farmers and producers to markets by looking into value-adding activities and effectively managing the segments of the chain through close collaboration with market players, supporting enterprises and industries. The model aims at promoting and establishing condusive markets for rural entrepreneurship through Local Value Chain Development processes. It also promotes business capacity and skills development among the project participants to establish and transform income generating activities into sustainable small – medium scale enterprises.
Microfinance module (MF) – the model promotes financial inclusion through linking savings group members with relevant and sustainable formal microfinance services from established Microfinance Institutions (MFIs)
Citizen Voice and Action (CVA) – Is a local level advocacy methodology that aims to improve essential services (like health and education) by improving the relationship between communities and government. Citizen Voice and Action works by mobilising citizens, equipping them with tools to monitor government services, and facilitating a process to improve those services



Achievements
Strengthened Inclusive Agriculture Systems that are Productive and Profitable





World vision Ghana over the past years has been promoting improved crops (maize, soybeans, cocoa, and vegetables, OFSP, e.t.c) and livestock breeds (sheep, goats, poultry, rabbit's e.t.c) that gives high productivity. Honey production is also being promoted as a catalyst for diversifying and improving household's incomes while enhancing their nutritional diets as well as the ecosystem. This system has been proven to be very successful over the years because of its contextual nature. Climatic factors are unpredictable hence the need to diversify the Agricultural sector to include both livestock and crop production so as to distribute the risk of climatic impacts. Situations where crops fail, livestock can serve as a safety net for households to recover and vice versa. In all these approaches and systems, the environment and gender mainstreaming especially targeting the most vulnerable who are often women and children are of higher priority.


 

Strengthened Access to Markets and Trade





Local value chain is being promoted for cocoa, shea butter, gari, maize, and soybeans. Under SATISFY Project about 12,047 farmers with have been trained on improved animal and crop production, business skills as well as market linkages on cassava, maize and cashew. They have also been supported to produce soybeans and linked to markets. Under the cocoa value chain are 70,339 (35,826m / 34,513f) farmers with Sixty Six (66) FBOs with over 5000 farmers supported to register as Cooperatives and to operate as legal entities. Farmers trained on cocoa extension services and plantain and cocoyam multiplication technologies. Farmers have been supported, Ghana cocoa board is the sole organized market that purchases cocoa beans from farmers with an average 1,270tons purchased from our value chain supported farmers.  For the other value chain crops the end market is the local market and households. This is very critical as a way of ensuring the local populates and households and their children are food secured. However, currently WVI Ghana is also under design in identifying and guaranteed contract markets to be part of the value chain processes for these crops being promoted. Again under the shea butter project, about 600 women have been trained and supported to produce 400 tonnes of butter which is being sold in the local and foreign market.

Increased Employment and Entrepreneurship





Over the years, WVIG has promoted dry season farming among 5,324 farmers as a business generation income and dietary diversification option.  Farmers have been trained on vegetable production technologies, harvesting and utilization. In promoting agriprineurship among the youth, World Vision supported 30 youth made of 24 males and 6 females with 3500 coconut seedlings as additional livelihood. Also as an approach in encouraging the youth and households to effectively engage in agricultural production, World Vision has also supported 800 women in cassava processing to gari using improved technology. About 500 tonnes of gari have been produced by these women and sold to improve their household wellbeing. WVIG has promoted cash crop production among 1,977 youth and linkages to financial and agricultural information service providers such as ESOKO and the Department of Agriculture. Establishing the needed linkages encourages and motivates households to go into the agricultural sector. Currently 12,047 farmers have been supported with livestock with 620 farmers are under bee keeping.

Increased Sustainable Productivity through Climate-Smart Approaches





Farmer Managed Natural Regeneration (FMNR) is one of the models that is being promoted among communities and households as a soil and water conservation practice while also greening the environment and the micro climate. Under the conservation Agriculture model which is also being intensively being implemented in all the food security APs included conservation practices such as No burn, mulching, in fact including FMNR, use of compost and household manure.

The FMNR approach has made significant achievements over the years, including the following:
1,500 hectares of land under forest cover with average tree density of 2,334 per ha;
1000 ha. of farmland under FMNR management with average tree density of 57 per ha;
7,500 Acacia trees planted by farmers along farm borders in Talensi District;
1.5 hectare Acacia provenance trial with 1000 Acacia;
2 hectares of Faidherbia planted in Talensi District
2 hectares of Mango plantations by communities in Talensi District
8,000 households have adopted FMNR in 100 communities in the Upper East Region;
More than 800 households increased crop yields using conservation agricultural practices 

such as Zero tillage, preparation and use of compost manure and stone bunding

Zero record of bush fires over a three-year period in 90% of communities practising FMNR



WVIG successfully integrated other interventions into FMNR to enhance resilience, sustainability and ensuring maximum project impact:
15 school environmental clubs with 250 active members
267 Saving Groups formed with 5,459 members and a total savings of   $136,995.00.
260 farmers supported with small ruminants as a complementary income strategy
50 communities supported to keep honey bees for honey
1000 women were trained on improved energy saving stoves at their household levels in order to decrease the dependence on fuel wood/felling of tress
These great achievement made WVG  to win 4 categories of awards out of 10; these are Male individual, Female individual, Restoration Innovation Award, NGO Restoration supporter (WVG) at the 3rd Beating Famine Conference in Mali where over 500 participants across 26 countries were present 



Financial Inclusion

S4T has been one of the key models promoted by WVI Ghana to enhance household's resilience to financial shocks with a total of 2,449 groups with total membership of 63,531 with women being 49,104 representing 77.3%. Groups' Assets comprising (Loan fund cash in box, bank balance, value of loans outstanding property now Social fund balance) stands at GHS 14,166,979 while Liabilities of the group stands at GHS 66,415. Groups' equity made of (Value of savings this cycle, social fund balance, property at start of cycle) amounts to GHS 14,100,565. Net profit on the groups' balance sheet stands at GHS 1,941,215. Children cared for by members' stands at 173,224 while S4T Members with RCs is at 10,356. Also, 127 groups have been linked to Vision Fund Ghana to access financial resources for their businesses. Groups are now able to generate their own savings from farm credit which they are able to farm on time and appropriately. Members are also able to loan to each other to either initiate new businesses or expand their businesses.



Collaboration

World Vision Ghana (WVG)  has established and maintained strong relationships with the Government of Ghana through the Ministry of Food and Agriculture, Department of Agriculture, Farmer based organization (FBO), INGO/NGOs/CSOs, NBSSI/BAC, Environmental Protection Agency, Women's groups, Traditional councils, Ministry of Local Government and Rural Development and Metropolitan/Municipal /District assemblies, Department of Community development , as well the Council for Scientific and industrial Research (CSIR) and its notable member organizations such as; Savanna Agricultural Research Institute (SARI), Crops Research Institute (CRI), COCOBOD and others.

Experiences

WVG has 35 years of experience in Ghana working with its partners to achieve household Food Security and Resilience.