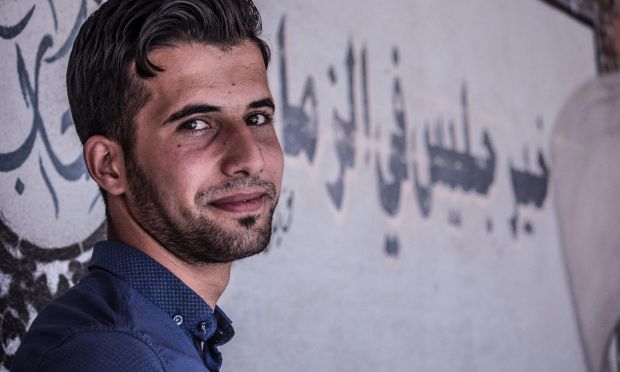 Story and photos by Sacha Myers, Communications Specialist, World Vision in Iraq
Abdulrahman sits at the back of the class. His back is straight and his eyes watch the teacher attentively.
It's been three years since Abdulrahman has sat in a classroom. He remembers the exact day ISIL came to his school in Mosul and stopped their classes.
"The last time I attended school was on 21 April 2014. I felt very sad when the schools closed. The students were upset and sad because there were no other places to go to study," he says.
Shortly afterwards, ISIL killed Abdulrahman's father.
Without his father's salary, Abdulrahman was forced to search for work. He did any odd jobs that came his way – moving furniture, changing tyres. Although he was only 15, it was now his responsibility to support his family.
Abdulrahman says he didn't mind the work and eventually found a job as an accountant in a shop. The hardest thing he faced was the daily harassment from ISIL.
"For me and my family, the most challenging thing was that ISIL threatened our family every day because they killed my father. They detained me once and then let me go. They moved us around a lot from neighbourhood to neighbourhood," he says.
"The other issue was the food supply at the end. We only had one kilogram of each basic food because it was so expensive. For example, 250 grams of sugar was 50,000 dinars ($USD 42).
"I lost a lot of weight because of the lack of food. Before the food issue, I was 72kg, and then after, I was 58kg."
As the Iraqi army moved closer to western Mosul, Abdulrahman and his family sensed their chance to escape.
"We decided to leave because the house next to us blew up. The best moment to escape was when they (the Iraqi army) bombed the houses because it's when ISIL took cover," he says, lost in the memory of the day.
"There was 25 metres between my house and the Iraqi army, but it took 25 minutes [to go that distance]. There were IEDs (improvised explosive devices) blowing up everywhere.
"One of my neighbours, a girl, had her face badly burnt and I had to carry her. I have a problem in my ear because an IED blew up close to me. My grandmother was with me [when it blew up] and once it had blown up I went and got her and we continued to move. She was OK but she hurt her shoulder."
Now ISIL have left, Abdulrahman feels like he can start rebuilding his life – starting with his education. He attends daily catch-up classes funded by World Vision and run by a local partner organisation called Al-Ghad.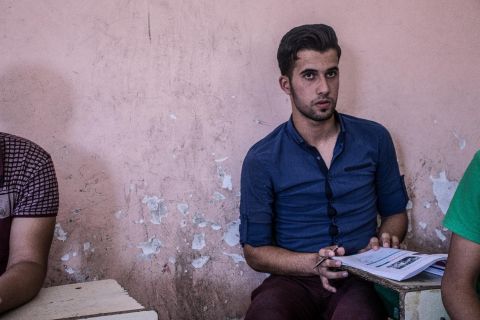 The classes aim to teach the whole school year in just three months so children can pass their exams and catch up on the past three years. With World Vision's support, Al-Ghad has also set up Child Friendly Spaces at the schools where children and young people can access psychosocial support.
"When they started the catch-up classes, we were very happy," Abdulrahman says.
"We're happy because all the information is coming back to us and the text books and teachers are very good. I've loved to study since I was small, and I love being in the catch-up classes now.
"I study physics, chemistry, maths, Arabic and English. We have awareness classes about hygiene and about early marriage. I won't get married when I'm young, I know it's not a good thing
"I'm hoping to be a dentist or a politician. I want to fix the problems in society and in the government system.
"I know step by step life will come back as it was. We don't have anything to suffer from and we don't have to worry about food. I saw my sister again after three years. She lives in Erbil so we weren't allowed to see her.
"When I saw her, I can't describe how I felt. I just hugged her. It was so good to see her again."
Key issues and programme information
Children in Iraq have endured years of catastrophic conflict. Since 2014, 3.3 million children and adults in Iraq have been forced to leave their homes and seek shelter from the fighting.
Many people have moved to very remote camps where they live in tents and sleep on the ground. Others are living in abandoned buildings, with relatives or in rented houses.
Although Mosul has been re-taken from ISIL, families continue to struggle. Unemployment is high and most children have missed years of school. In western Mosul, homes, infrastructure and services have been almost completely destroyed.
Other cities in Iraq are still under siege and families continue to flow into camps. Some people are also too scared to return home, or cannot go back because their houses were bombed and there's nothing left.
World Vision is working in camps and urban areas throughout the Kurdistan Region of Iraq and in eastern Mosul. We provide emergency assistance to families including food, water, blankets, stoves, mattresses and healthcare. We also support children and adults with longer-term education, protection and economic development programs to help them recover and start rebuilding their lives.
In eastern Mosul, World Vision is partnering with a local organisation, Al-Ghad, to provide catch-up classes for children who have missed school. We also provide psychosocial support for the children through Child Friendly Spaces set up in the schools, and through social workers who visit children in their homes.
Since 2014, World Vision has reached more than 209,000 children and adults in Iraq.