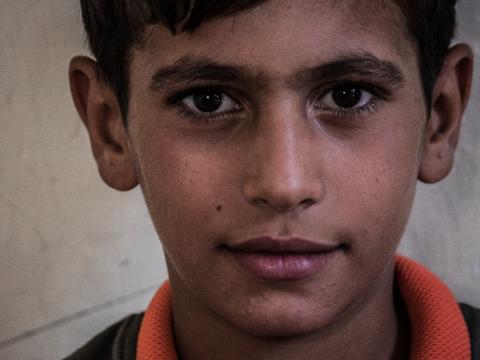 Orphans and separated children in Iraq face uncertain future
Friday, September 15, 2017
Story and photos by Sacha Myers, Communication Specialist, World Vision in Iraq.
A large group of children clamber over each other, vying for space on the floor of the tent.
The smell of cucumber fills the air as the children chomp into raw vegetables. It's lunchtime in Hassan Sham camp in northern Iraq.  
Four women encircle the group, as if keeping watch. Protecting them.
Six children in the group are orphans. Their parents were killed as they tried to flee the ISIL-controlled city of Mosul. Two other children were separated from their parents during an explosion.
Although the women have nothing left – they have lost homes and husbands in the violence – they have taken the children into their care.
The scene is painfully reflective of the current reality in Iraq.
Years of conflict have destroyed people's lives. Since 2014, more than 3.3 million children and adults in Iraq have been forced to flee their homes. Many have lost loved ones.
Orphans and children who have been separated from their parents face a very uncertain future.
Ten-year-old Ghalib is one of the many separated children in Iraq struggling to find his way in the world.
He sits alone in the corner of his aunt's lounge room in eastern Mosul. His knees are drawn up to his chest and fiddles with his toes.
"Ghalib's father died when a bomb exploded next to him," says Baidar, Ghalib's aunt.
"His mother cried so much when her husband died…she couldn't look after Ghalib and he was suffering from psychological problems. So, we brought him here to play with my children. 
"He cries all the time. He spends most of the time staring and gets sick easily."
Ghalib is lucky to have his aunt and uncle. But the family is scraping out a meagre existence and can barely afford to support their own children.     
"My husband used to have his own workshop. But now he's working in a window shop. His workshop in Mosul was destroyed," Baidar says. "This house is rented. We are in debt. There are no job opportunities and it's hard to pay the rent.
"Since ISIL came, they destroyed everything. All our lives have been destroyed. We are starting from zero."
Baidar cannot afford to send Ghalib to school and he spends his days working in the window shop with his uncle.
"When I get up I wash my face, have breakfast and go to the workshop and my uncle or aunt will bring me sandwiches for lunch," Ghalib says, describing his average day. "I sell the paste that fills the gaps in the windows.
"Then at 7pm I come home and have dinner. I go to sleep at about 12am because I don't have a bed and I have to wait until my relatives go to bed [so I can sleep in the lounge room].
"My life here is good but I'd like to see my mum. I want my mother to come back. I want to be reunified with my mother. My mother tells me when she has money she can come to me."
World Vision is working with Al-Ghad, a local partner in eastern Mosul, to identify and help vulnerable children like Ghalib.
Teams of social workers offer psychosocial support and connect children and their families with other services, such as hospitals or disability assistance, to improve their lives. The social workers also help reunify unaccompanied and separated children with their families. 
We are currently providing Ghalib with psychosocial support and clothes, and working to reunify him with his mother.
Baider says since World Vision and Al-Ghad have been visiting Ghalib, he has improved a lot. He is positive and has hope.
"Yasameen and Mohammed help me a lot because they brought me clothes," Ghalib says, smiling at the social workers who visit him regularly. "And I thank the social workers for providing me with help. I became comfortable talking to them." 
World Vision is working in camps and urban areas throughout the Kurdistan Region of Iraq and in eastern Mosul. We provide emergency assistance to families including food, water, blankets, stoves, mattresses and healthcare. We also support children and adults with longer-term education, protection and economic development programs to help them recover and start rebuilding their lives. 
Since 2014, World Vision has reached more than 209,000 children and adults in Iraq.