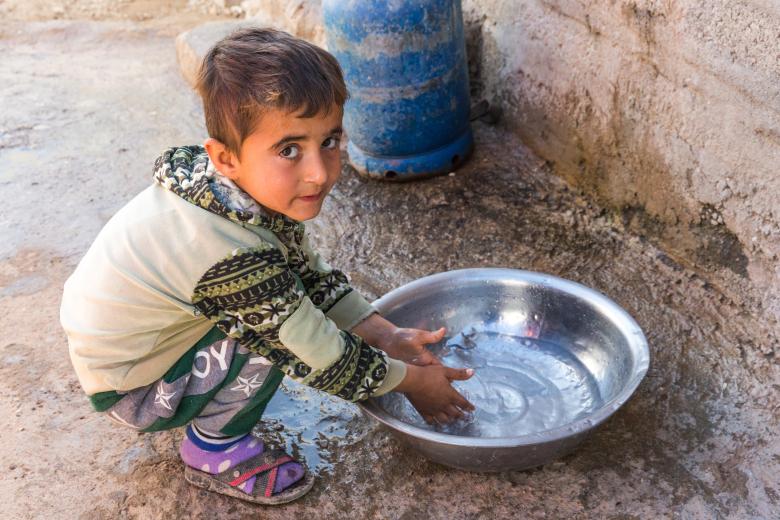 Water services a lifeline in parched Iraq
Monday, November 28, 2016
by Max Greenstein and Kayla Robertson, World Vision
As families continue to flee their homes, World Vision is providing lifesaving water
When the taps turned on there was only mud.
Twenty thousand people were sheltering inside the tiny town of Khanke after fleeing ISIL's violent advance on their villages. Khanke's infrastructure was heaving under the pressure: electricity flickered, food was rationed and the trickle of water from the pipes became dry.
The population had doubled and they were thirsty.
"Our culture is generous like that," says mechanical engineer Ibrahim Yazdeen from his family home in Khanke, Iraq. More than 100 families had squeezed inside the garage downstairs and he was cooking big bowls of macaroni to feed them. The community's homes and hearts had opened to this new wave of internal refugees, but the overburdened village couldn't keep up with their hospitality.
"The strain of such a rapid increase in population caused the pressure in the water pipes to change," explains Ibrahim, a local water specialist. "Sewage, sand and grey matter began to seep into the water system." Children contracted mystery illnesses: fever, diarrhoea, vomiting. Crammed into small spaces, hundreds of people were sharing the same hygiene facilities. Sickness spread like wildfire.
Turning on the taps
Conflict in Iraq and the migration of thousands of people into host communities has decimated the crumbling infrastructure. Today, districts across the country urgently need support to access clean and safe drinking water.
"Even before the conflict, Khanke's water storage tank had limited capacity," says Michael Wicker, World Vision's WASH Manager in northern Iraq. "When the needs in the community doubled, people could only access water for two or three hours every few days."
As families from Sinjar began to move out of people's homes and into tents in the newly built Khanke camp, World Vision partnered with Ibrahim Yazdeen to rehabilitate the water treatment facility that sits on the picturesque Mosul Dam Lake. Fed by the Tigris River, it now services the town and the internally displaced population with pure, clean drinking water.
"The water's perfect," says Sanaa at the camp while meticulously hand washing her children's clothes.
Her family are sprawled across multiple tents, with her husband's three brothers, their wives and children all now calling it home. In the spirit of Iraqi generosity, another older woman, who arrived at the camp alone, has also been warmly adopted into the family. Their gleaming water tank sits firmly in the centre of their shared living space.
"Life here is good for us," Sanaa says. "The children no longer get sick."
Her daughter is helping her youngest son Salman, 2 years old, drink from the tap water splashing from his chin to his chest.
"They're happy," Sanaa adds with a small smile.
World Vision responds
Iraq is reeling from two years of conflict. More than 70,000 people have fled their homes since the operation to retake Mosul began on 17 October. Another 3.3 million people were already displaced; half of whom are children.
World Vision is expanding its water and sanitation projects across the region to respond to their needs.
This includes:
Providing hygiene kits and water access through a new borehole in Debaga camp, which is home to more than 30,000 displaced people, including those fleeing Mosul
Helping around 130,000 people in Fayida district access water, one of six projects in Bibozee village currently being built; it will be ready next month
Providing more than 40,000 people in Khanke town and Khanke camp with fresh water through the rehabilitated water treatment in facility
"Water is a basic building block to life," says Michael Wicker. "Every person deserves to have fresh water to drink, wash, cook and clean wherever they live."
Click here to donate to World Vision Australia's Mosul Crisis Appeal.