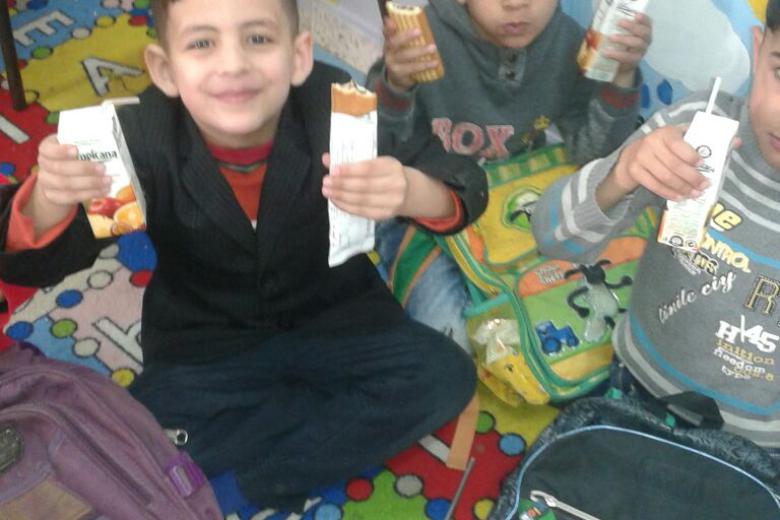 NOUR ECCD: A multi-sector approach to enhance learning for life
Sunday, September 23, 2018
By Hillary Bakry and Bruno Col | 3 September 2018
Today in Jordan, Ahmad and thousands of children are back to school! This is worth celebrating.
World Vision NOUR team, funded by Global Affairs Canada (GAC), in coordination with the Jordanian ministry of Education have implemented several key activities to prepare children's return to their Early Childhood Care and Development (ECCD) partnering schools.
The rehabilitation of classrooms, the installation of playground and recreation tools and materials, the recruiting and training of volunteers and facilitators have helped to improve learning processes, classroom management, subject knowledge and educational planning. Skillful teachers make the ECCD centres operating under the NOUR project attractive safe educational places for more students to be enrolled for the next academic year.
Conflict-affected communities are constantly struggling to feel secure after going through horrifying experiences, for Ahmad it means he is not able to feel safe around strangers. Ahmad is a lively child, he is smart, active, and he likes to play in his local World Vision ECCD Centre. For the first few months of his time there, the 5 years old Syrian boy would be terrified when he saw visitors, especially male ones. Ahmad would cry and refuse to make any communication, even though it was inside a safe space: "Strangers would want to kidnap and kill you" said Ahmad, as that is what his parents constantly told him.
Ahmad's situation is one of the many examples of the challenges that families go through because of the Syrian crisis. In World Vision's ECCD Centre, children like Ahmad and his parents are supported by teachers and staff as a part of improving a child's early childhood care and development. Today only 19% of the children in Jordan have access ECCD opportunities, meaning child development challenges such as this are often hard to notice and resolve.
In Jordan, the ECCD project targets 600 children and 300 caregivers in 4 of the governorates, 50 in each centre, including: Irbid, Mafraq, Amman, and Zarqa. It is a part of Project NOUR that means "light" in Arabic, and aims to shine the light on the future of vulnerable children and families and communities. The entire NOUR Project aims to reach 105,288 beneficiaries. It is important for children to have a safe and supportive learning environment that enables them to develop their emotional, cognitive, and social skills. A large number of children enter primary school without the requisite skills to succeed cognitively and socially. According to USAID assessment the primary school drop-out rate can reach up to 30-40%, eventually this will affect children's academic performance and their future.
World Vision Jordan works together with local government and communities to make ECCD available and accessible for children both in refugee camps and host community. Through its ECCD centres, World Vision has provided teaching aids, improves the classroom environment, and trains teachers and educators with the Ministry of Education on the subject of child care and child protection. All of this ensures that children like Ahmad can access his rights and fulfil his potential.
World Vision's integrated ECCD approach has a critical parenting component; involving Ahmad's parents to address issues is a necessary step in the process of helping his holistic development.
The ECCD teachers work closely with parents to acknowledge and develop the children's potential. By the end of the school year, Ahmad has successfully become more happy and confident. He has stopped crying whenever he sees visitors to the class and is no longer afraid of strangers.
The NOUR project addresses key development challenges that are prevalent in Jordan, including those that predate the Syrian crisis and have been exacerbated by the refugee influx. Education is one of these challenges and ECCD is one of the answers to this. ECCD is a multi-sector approach that includes Health, Nutrition and Education. ECCD is necessary to ensure child's educational outcomes, to increase their resilience, and to equip them with the necessary skills for the long term. The need to provide education for children and youth of all ages that have been affected by conflict is needed more than ever.