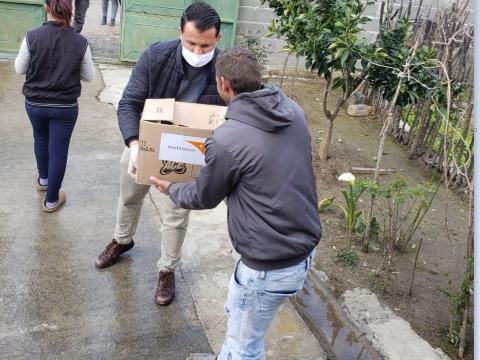 Survey: 76% of families report that they do not meet the food needs at all or partially during COVID-19 pandemic
Tuesday, May 19, 2020
                                                                         Press release
Survey: 76% of families report that they do not meet the food needs at all or partially during COVID-19 pandemic
May 2020 – The economic insecurity of families is affecting the well-being of children in Albania. The situation created by the COVID-19 pandemic has affected the provision of food to the family and the unemployment increase. 68% of respondents expressed concern that in the near future the situation created by the COVID-19 pandemic will affect their employment or self-employment. Meanwhile, the percentage of families reporting unemployment due to this situation has increased by 10%.
These are some of the main findings of the situation assessment report conducted by World Vision Albania for 1199 families in 15 municipalities of the country. The data collection was conducted during April 28 - May 8, 2020 and the average duration of each phone interview was 44 minutes.
The assessment focused in some important aspects that have affected the Albanian families such as: source of income before and during the pandemic; families' ability to fulfill the basic needs; mental health and domestic violence; children's education; knowledge of families to prevent infection and the spread of the novel coronavirus.
Despite the negative impact on sources of income, the report shows that mandatory isolation at home has also affected our mental health, domestic violence and education.
35% of the respondents report high levels of anxiety and stress. 49 % reported that their children have witnessed adults yelling at each-other at home and 17% claim that children have witnessed physical violence in the family.
In the conditions created by COVID-19, the need requires that especially during this period, the child protection mechanisms function well, while psycho-social support is provided and the specialized service reaches the family.
At a time when digitalization globally is the only way to build bridges of communication, there are still children among us who need technological infrastructure to continue online learning. According to the assessment preliminary findings 5 in 10 children with disabilities could not attend online classes from home.
In these conditions, Albanian families need sustainable economic opportunities to recover as soon as possible.
The assessment  
World   Vision   Albania   conducted   a   rapid   assessment   to   explore   on   the   consequences  that  families  are  facing  due  to  the  Covid-19  pandemic  in  Albania.   The assessment will aim to highlight the urgent, medium and long-term needs of families and children in Albania as a result of the new coronavirus pandemic. In spite of the problems, the interviewed families proposed also the most appropriate solutions for the situation.   
You can find the preliminary findings of the impact assessment of the COVID-19 outbreak on wellbeing of children and families in Albania in the following link: https://www.wvi.org/publications/infographic/albania/impact-assessment-covid-19-outbreak-well-being-children-and
Learn more about and/or support World Vision's global work to limit the spread of COVID-19 and support the children impacted by it on our COVID-19 Emergency Response Page.