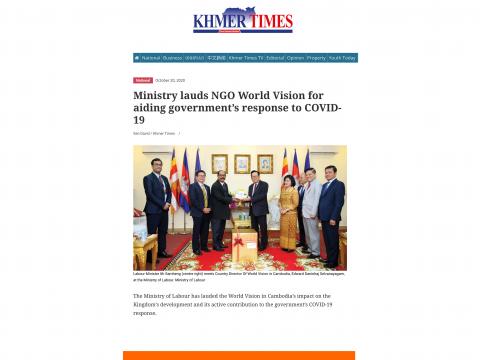 Ministry lauds NGO World Vision for aiding government's response to COVID-19
Tuesday, October 20, 2020
The Ministry of Labour has lauded the World Vision in Cambodia's impact on the Kingdom's development and its active contribution to the government's COVID-19 response.
The announcement came after a meeting between Labour Minister Ith Samheng and country director of World Vision in Cambodia Edward Danielraj Selvanayagam, at the Ministry of Labour yesterday.
Samheng said that World Vision has been carrying out humanitarian activities in Cambodia for a long time, with the organisation having a major impact on health, education, job creation as well as reducing child labour and running vocational training programmes.
"It is through this work that World Vision has been actively involved in supporting the policies of the government. The reason why World Vision continues to receive support from donors and other countries is due to its transparency and efficiency," he said.
Samheng also said that World Vision has contributed to reducing the impact of COVID-19 in Cambodia.
"Although we do not know when the pandemic will end, we discussed ongoing partnership and the development strategies which will rehabilitate the youth post-COVID-19," he said.
A joint statement after the meeting reaffirmed that the Labour Ministry and World Vision will continue cooperation to further strengthen their partnership, especially in the fight against COVID-19.
Selvanayagam also thanked the government specifically for allowing World Vision to carry out its humanitarian programmes in Cambodia.
According to the NGO, between July 28 and August 3, World Vision responded to the needs of vulnerable families that have been affected by the negative impacts of COVID-19 in more than 550 communes across ten provinces and Phnom Penh.
World Vision has worked with local community partners and authorities to reach more than 923,000 people so far, including 367,000 children.
World Vision staff have provided food assistance to around 36,000 vulnerable households, distributing more than 184 tonnes of rice and other food items.
It also supported 74 health centres and hospitals and vulnerable families with personal protection equipment and hygiene kits, including 11,000 litres of sanitising alcohol, over 6,000 boxes of face masks and over 1,000 boxes of gloves.
Over 58,000 reading books and learning materials for children have also been distributed.
-------------------
Original source: https://www.khmertimeskh.com/50774673/ministry-lauds-ngo-world-vision-for-aiding-governments-response-to-covid-19/
Published by Chetra Ten, Lead Creative Solutions Supervisor