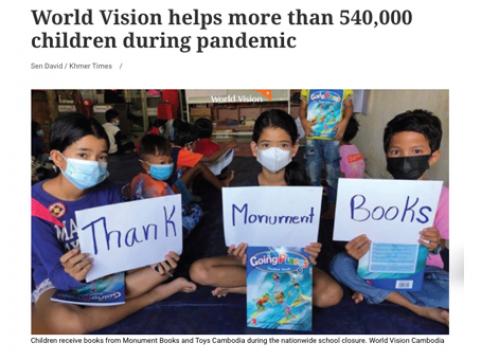 World Vision helps more than 540,000 children during pandemic
Tuesday, July 6, 2021
More than 540,000 children benefitted from food security and learning materials programmes during the Covid-19 outbreak, World Vision Cambodia announced yesterday.
World Vision local fundraising manager Heam Chetra told Khmer Times yesterday that it actively engaged with authorities and stakeholders to respond to the outbreak in a timely and appropriate manner.
She said that nearly $2 million has been used in World Vision programmes. It provided more than 250,000 learning materials for children to be able to study at home during school closures.
It also ensured food security as well as providing cash support to the most vulnerable families and children. However, she said, these activities would not have been successful without the contribution of stakeholders and charities.
"During the Covid-19 crisis, World Vision received mass support from local companies, funds from social media fundraisers, children's books for their home study aids and some funding from World Vision staff to help the people affected by the Covid- 19 pandemic," Chetra said.
The results of a study on the effects of Covid-19 conducted by World Vision in late March and early April showed that more than 30 percent of children were unable to continue their distance learning, due to a lack of materials (36 percent), no internet access (59 percent) and no electronic devices (39 percent). Most children (73 percent) who can continue their education are using textbooks and worksheets from school.
Seeing this need, managing director of Monument Books Company Meng Heang donated 1,800 English language books for primary school children worth $10,800 on June 11, 2021.
Chetra said that World Vision distributed the books to 5,400 children living in 10 urban communities in Phnom Penh. This support will further help children who lack or do not have enough study materials as well as help reduce children's stress.
She said that in order for children, especially poor children and children in more vulnerable families, to receive school supplies and textbooks when their school is closed, people can join World Vision through the Social Support Programme through ABA Bank Account: 000 880 848 (World Vision International) or through World Vision's local budget manager Heam Chetra at +855 (0) 15 93 53 83 or by email: chetra_heam@wvi.org.
Heang said that distributing books to poor communities through World Vision is now part of supporting students.
"Books are very important for children to continue reading to gain more knowledge and this can also be a motivating factor for parents to get more involved to support their children's education at home as well," he said.
------------------
Original Source: https://www.khmertimeskh.com/50885422/world-vision-helps-more-than-540000-children-during-pandemic