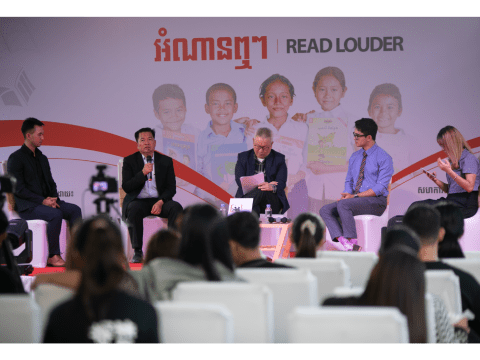 World Vision promotes reading
Tuesday, March 28, 2023
World Vision International in Cambodia is intensifying its campaign to promote reading among children by seeking public help for donations in cash or children's books to help build libraries in Preah Vihear province's Choam Ksan district and Kratie province's Prek Prasop district.
World Vision is hoping to garner 10,000 books for the children to develop their reading skills.
The construction of libraries is to provide children with a better reading environment.
On Sunday, in cooperation with the Cambodian Young International Chamber of Commerce, Chaktomuk Branch, Community School21 and Coconut Park a "Reading Aloud" programme was held at Koh Pich Coconut Park.
The "Read Aloud" programme by World Vision, a child-focused NGO, was the second such event held this year.
Va Surin, World Vision International Education Programme Director for Cambodia, said, "World Vision is campaigning for 10,000 books to promote children's reading."
"Investing in reading, especially for children is very important.
"World Vision wants to foster reading habits among children," he said.
Surin said reading not only helps develop the literacy skills of children but cultivates their knowledge which will also help the development of the nation in the future as these children are the next generation of leaders and human resources.
At the end of 2021, the Ministry of Education, Youth and Sport found that only 45% of Grade 6 students could read, while 55% could not read due to living and geographical factors.
Chan Betta, Community Vice President of the Cambodian Young International Chamber of Commerce Chaktomuk Branch, said the reading culture in Cambodia has improved but is still limited, especially among young children in remote areas.
"Young children in remote areas need to be encouraged and we can help by providing the resources and making the environmental factors better.
"Therefore, we believe that public donations are really important for schools that require textbooks, study materials, library materials or libraries for students to further research, promote the literacy and reading of Cambodian children," he said.
He said World Vision received about $2,400 and more than 500 textbooks last year.
The funds, he said, were spent on holding reading camps in Sambour district, Kratie province and Choam Ksan district in Preah Vihear province.
Meas Serey, a volunteer coordinator at the reading camp in Choam Ksan district, said the reading camps involved between 30 and 40 children reading books together on weekends.
The camps, he said, not only helped develop children's reading skills but also increase their social skills.
Dr Mengly J Quach, the founder of Mengly J Quach Education, said that 75% of Cambodians are under the effect of stress and reading books could help alleviate stress.
He said reading not only reduces stress but helps improve language and makes people good at speaking and improves their memory.
Try Samphor, Comic Art Book store owner, said the Reading Aloud programme will help children in remote areas have better access to books.
"Letting children read books is better than letting them play on the phone," she said.
------
Article By: KhmerTimes