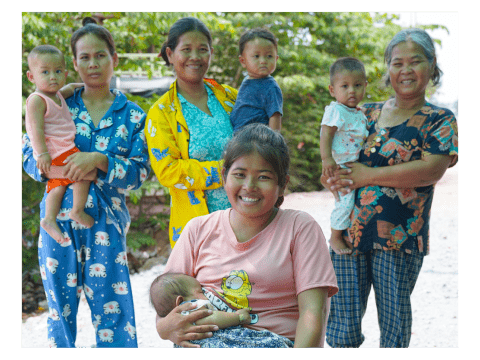 World Vision's "Health centres of excellence for breastfeeding" initiative scaled up to 34 health centres in Siem Reap and Preah Vihear provinces
Friday, November 3, 2023
In close collaboration with the Ministry of Health (MoH), the National Nutrition Program (NNP) and the National Maternal Child Health Centre (NMCHC), World Vision International in Cambodia is scaling up the implementation of the "Baby-Friendly Health Centre" project in Siem Reap and Preah Vihear provinces. The expansion, financially supported by Else Kröner-Fresenius-Stiftung (EKFS) through World Vision Germany and with approval from MoH, builds on the successful implementation of the approach in eight Health Centres across Siem Reap in 2022/2023.
Through the 3-Year Project implementation period (2023-2026) of the promotion of Baby-Friendly Health Centres (BFHC), more than 54,096 pregnant women, 15,285 newborns, and 134 health centre staff will be positively impacted by building the capacity of the health centre staff and through engagement with the Provincial Health Department to monitor and the supervise the 'baby friendly services' delivered by these 34 Health Centres. In addition, this project will also mobilise and train 'Lactation Counsellors' at the community level to counsel the mothers and household members on providing breastmilk to newborns, infants and young children.
In June 2022, World Vision prepared the draft operational guidelines to implement BFHC based on the World Health Organisation (WHO) guidance and the national Baby-Friendly Health Initiative (BFHI) guidelines, launched by MoH in September 2022. In November 2022, WVI-C initiated a one-year pilot programme in eight health centres (HCs) in Siem Reap. Later this year, with the approval from the Ministry of Health, an additional 26 Health Centres will be promoted as Baby-Friendly Health Centres. Through the promotion of early initiation of breastfeeding, exclusive breastfeeding and continued breastfeeding we expect to improve children's well-being and reduce childhood infections and child deaths.
Malnutrition rates among children under 5 years in Cambodia are some of the highest in the region, with 22 per cent being too short for their age and 10 per cent not weighing enough for their height. Improper feeding, poor water, sanitation and hygiene (WASH), poverty, and mother's lack of education are among the main reasons for children being under-nourished1.
"The Ministry of Health collaborates with development partners, such as World Vision, to improve breastfeeding rates in the country. It is essential to increase the knowledge among pregnant women and postpartum mothers on the benefits of breastfeeding, only half of the mothers in Cambodia exclusively breastfeed their children within the first 6 months of birth. Breastfeeding is the ideal food for newborns and infants, and it helps to protect against many common childhood illnesses. Breastfed children excel in intelligence tests as they grow up and they are less prone to diabetes and other non-communicable diseases as they grow up," said H.E Dr. Kim Rattana, Director of the National Maternal Child Health Centre (NMCHC).
Dr. Rattana continues, "Supporting the Health Centre staff in the promotion of breastfeeding will enable them to educate pregnant women, postpartum mothers, especially women with their first child. In addition to the education about the importance and advantages of breastfeeding, skin-to-skin contact as soon as delivery and initiation of breastfeeding within the first hour of birth need to be promoted both during pregnancy and post-delivery. Health Centre staff also need to support breastfeeding in terms of attachment and positioning the baby and encourage women to continue breastfeeding their children until 2 years old to improve the well-being of children."
Although 99% of births were delivered by a skilled provider, ( 68% by a nurse or midwife, 2% by an auxiliary midwife, and 29% by a doctor); only 54% of the newborns were fed with breastmilk within one hour of birth.2(CDHS, 2021).
"Breast milk is a medicine to prevent the baby from disease, therefore the project is to improve the knowledge, skills, and appropriate behaviour of the breastfeeding practice among mothers throughout health centre staff following the initiative of the Baby Friendly Health Centres Project." Said H.E. Dr. Koung Lo, Director of Preah Vihear Provincial Health Department.
Based on the latest Cambodia Demographic Health Survey, Preah Vihear and Siem Reap provinces have high percentages of health facility-based delivery at 94.8% and 97.4%. However, early breastfeeding initiation has remained low at 42.4% and 56.2% respectively.
Despite the gradual decrease in children's malnutrition rates, Mr. Yim Song An, Chief of the Health Centre SAANG Operational Health District, welcomes the project initiatives and foresees it will help to improve service delivery in the health centre further and contribute to increased breastfeeding rates.
Mrs Grana Pu Selvi, Technical Lead for the Integrated Nutrition Programme at WVI in Cambodia, said that health facilities play a crucial role in encouraging and supporting young mothers to breastfeed their children successfully. The staff from the health centre will be trained to promote breastfeeding practices and encouraged to make their health centres 'baby friendly' and this will be supervised and monitored by the staff from the Provincial Health Department. This project will be implemented closely with the National Maternal and Child Health Centre and the National Nutrition Programme.