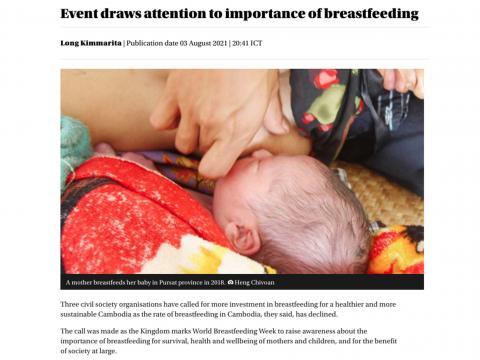 Event draws attention to the importance of breastfeeding
Thursday, August 5, 2021
Three civil society organisations have called for more investment in breastfeeding for a healthier and more sustainable Cambodia as the rate of breastfeeding in Cambodia, they said, has declined.
The call was made as the Kingdom marks World Breastfeeding Week to raise awareness about the importance of breastfeeding for survival, health and wellbeing of mothers and children, and for the benefit of society at large.
World Vision International (WVI)-Cambodia and Scaling up Nutrition Civil Society Alliance in Cambodia in partnership with the National Nutrition Programme observed World Breastfeeding Week in Cambodia 2021 under the theme "Protecting Breastfeeding: A Shared Responsibility".
A joint press release from the group on August 1 said individual breastfeeding behaviour is important, calling on families, communities, governments and civil society to invest in and support breastfeeding for a healthier and more sustainable world.
"World Breastfeeding Week takes place from August 1 to 7, but efforts to protect, promote, and support breastfeeding in Cambodia must continue year-round," they said.
From 2000 to 2010, Cambodia's exclusive breastfeeding rate – babies fed only with breast milk from birth to six months of age in line with World Health Organisation recommendations – increased dramatically from 11 per cent to 74 per cent, they said.
Since 2001, the Ministry of Health's National Nutrition Programme in cooperation with key nutrition partners has led celebrations of the annual World Breastfeeding Week.
However, celebrations in Cambodia ceased in 2010, based on the assumption that the public was aware of the importance of breastfeeding.
But now, data from 2014 revealed that the breastfeeding rate had dropped and the use of formula milk was increasing, endangering child health and survival and costing families and the economy. As a result, World Breastfeeding Week was revitalised in Cambodia by the National Nutrition Programme in 2015, according to the press release.
This year, WVI-Cambodia said the celebration will take place mainly online, including the dissemination of videos, live talk shows, and quizzes across social media.
It said that in addition to pregnant women and breastfeeding mothers, these celebrations will also target fathers, grandparents, caregivers, health workers, community leaders and other relevant members of the community who can share experiences of breastfeeding.
"The Covid-19 pandemic has further emphasised the need to continue supporting and investing in breastfeeding. Separation of mothers and babies, disruptions to health services including breastfeeding counselling and support, and unethical marketing of formula milk to the public during the pandemic has had a potentially negative impact on breastfeeding.
"The need to invest in and support breastfeeding has never been greater," WVI-Cambodia said.
------------------
Original Source: https://phnompenhpost.com/national/event-draws-attention-importance-breastfeeding