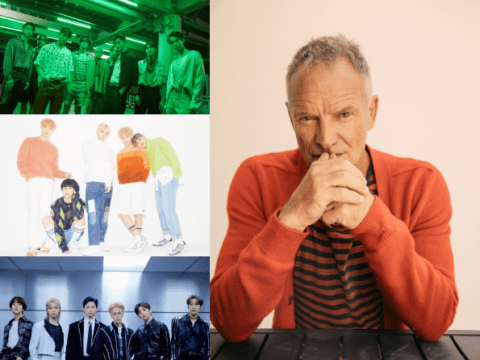 Global & K-pop Artists Unite to support children affected by COVID-19 pandemic
Thursday, October 28, 2021
Pop legend Sting and K-pop stars including NCT127, ITZY

, Stray

 Kids and CHUNGHA come together for children affected by COVID-19

Korean broadcast network MBC and World Vision partnering to present 'World is One 2021 Concert' this Saturday, 30 October, 8pm KST (UTC+9)

Recording of children singing supported by World Vision in Kenya and Zambia, will be released for the first time during the concert
World Vision has partnered with Korean broadcaster MBC to host the global benefit concert  'World is One 2021'.
Artists at the event will include pop legend Sting, K-pop stars NCT127, ITZY, CHUNGHA, Stray Kids, and a special performance by children from Zambia and Kenya, supported by World Vision. The 'World is One' concert aims to deliver music that transcends borders to connect the world.
The event has been organised in partnership with Korean broadcaster MBC to unite global artists and raise awareness of the effects of the COVID-19 pandemic on the world's most vulnerable children.
In many places, people are still battling COVID-19 and feeling its effects. Lockdowns and virus containment measures have destroyed millions of livelihoods and these devastating aftershocks are putting more children at risk. Millions of children are one step away from starvation and facing the threat of famine. The loss of income has also increased stress and poverty resulting in domestic and childhood abuse and forcing children into violent and abusive survival situations, such as early child marriage and child labour.
World Vision Korea Chairman Myung-hwan Cho said, "The concert is an opportunity to share comfort and warm emotions that transcends borders. We thank everyone who has partnered with World Vision and hope that this message of hope through music is well received."
Former Michael Jackson collaborator Siedah Garrett will also join the concert for a special performance of 'Man in the Mirror' with Solar from K-pop group Mamamoo.
The World is One 2021 Concert will be broadcast live on MBCKpop and 'it's Live' Youtube channels from 8pm KST on October 30.
ENDS.
Notes to Editors
World Vision is a Christian humanitarian organisation dedicated to working with children, families and their communities to reach their full potential by tackling the root causes of poverty and injustice. World Vision serves all people, regardless of religion, race, ethnicity or gender.  For more information, please visit www.wvi.org or follow us on Twitter @WorldVision
World Vision is responding to the devastating impact of COVID-19 in more than 70 countries to limit the spread of COVID-19 and reduce its impact on vulnerable children and families. Our global COVID-19 Response has reached more than 72 million people, including more than 31 million children with efforts to scale up preventative measures to limit the spread of the disease; strengthen health systems and workers; support children affected by COVID-19 through education, child protection, food security, and livelihoods; and collaborate and advocate to ensure vulnerable children are protected.
Link to the webpage for the event (in Korean): https://www.worldvision.or.kr/campaign/2021/worldisone2021/index.asp