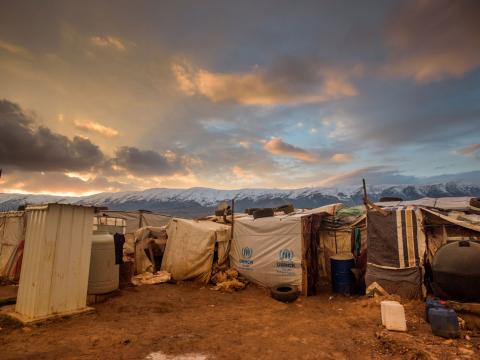 WVI joins 11 NGOs and UNHCR to alleviate refugee poverty
Wednesday, July 3, 2019
Geneva - 4 July, 12:40 European Summer Time (+2 GMT)
World Vision International will be joining an official launch of 11 NGOs, the UNHCR and World Banks Partnership for Economic Inclusion joining to form the Poverty Alleviation Coalition.
Globally, 71.4 million individuals have been forcibly displaced from their homes as a result of persecution, conflict, natural disaster or generalised violence. 85% of refugees (16.9 million) are hosted in developing countries that are already facing socioeconomic challenges and high levels of poverty.[1]
The Poverty Alleviation Coalition has the ambitious goal of alleviating the poverty of 500,000 refugee and host community households in 35 countries within 5 years. The Graduation Approach project model will guide the coalition's response for extremely poor refugees and host communities to become self-reliant. "Graduation" in this context refers to participants moving out of safety net programmes and "graduating" into income earning activities that let them sustain themselves without external subsidies.
"The idea here is to foster self-employment activities among the very poor," says Richard Rumsey, World Vision's Global Sector Lead for Livelihoods, "helping to shift them from insecure and fragile sources of income to more sustainable income generating activities."
World Vision has been equipping refugee and host communities to become self-reliant by using the Ultra Poor Graduation model. The approach provides access to temporary food and cash assistance, savings for transformation, training, and marketing expertise to help families' kickstart a small business or access employment. Families also learn about health, nutrition, and hygiene practices to ensure that economic gains are translated into better care for their children.
--------------
Find out how World Vision has been empowering refugee communities at Imvepi refugee settlement in the Arua district of Uganda to start savings groups. This has enabled refugees like Kennedy Kemis to borrow a small loan of $40 to set up a small grocery at the camp.  
Join us for the coalition's live session on 4 July at 12:40, European Summer Time (+2 GMT) to learn how World Vision will partner to respond to the needs of the extremely poor refugees and host communities to become self-reliant.
Follow us @World VisionUN and @Rumsey_WVision for live updates from the official launch.
For more information, or to request an interview with Richard Rumsey, please contact World Vision's Livelihoods Sector Team at livelihoods.wvi.org.
[1] Global Poverty Situation Among Refugees and Host Communities, Poverty Alleviation Coalition, https://alleviate-poverty.org/about