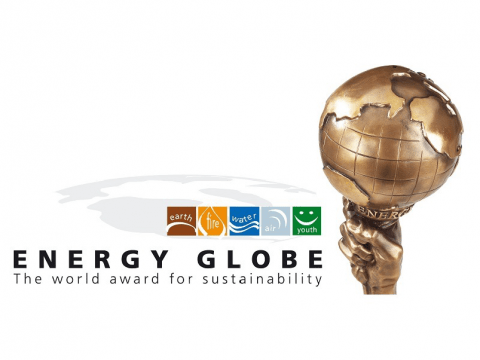 World Vision's Drylands Development Programme in Ethiopia wins 2020 Energy Globe World Award
Friday, June 4, 2021
(4 June 2021, Addis Ababa) World Vision's Drylands Development Programme in Ethiopia has won a 2020 Energy Globe Award –the most important award for sustainability worldwide– for its outstanding contribution in restoring the environment.
The Drylands Development Programme won the 'Category Earth' award competing 2,000 projects from 180 countries around the globe. The winners will be officially announced on World Environment Day on 5 June 2021.
According to a statement posted on Energy Globe's official page, around a quarter of the earth's land area particularly that of Africa has become deserted and infertile. Assefa Tofu from World Vision in Ethiopia did not want to accept this and began to re-cultivate the destroyed landscape by planting trees. In 2013, the team started the "DryDev" campaign. Around 60,000 farmers have so far taken part and around 50,000 hectares of fruitless land have been reclaimed thanks to the restoration of vegetation and water extraction, improved seeds, and better training for farmers. The so-called famine months were reduced from 3.6 to 1.4 per year.[1]
World Vision implemented the Drylands Development Programme in Tigray and Oromia regions from 2013 to 2019 with a view to contribute to smallholder farmers in dryland areas as they transition from subsistence farming and emergency aid, to sustainable rural development.
Guye is a mother of three children and a member of Lega Defa irrigation cooperative in Oromia, organised by the support of the Drylands Project. She produces cash crops including onion, cabbage, tomatoes, and maize, three times a year. Guye bought a motorcycle for local transportation service that enabled her earn 2,000 Birr (US$90) per month; enabling her to save about 65,000 Birr (US$3,000) in her bank account so far. "A few years ago, it was very difficult for me to provide food to my children as well as buy school materials and clothes. Today these things are the simplest ones to provide for my children. My past worries with their worst memories have gone", she testifies.
''Currently we are earning 5,142 Birr (US$240) monthly from the sale of milk and butter. I have three cows valued 80,000 Birr (US$3,800) as an asset',' says Girmay who is a member of a Village Saving and Lending Association (VSLA) in Tigray Region.
 "The adverse impact of climate has remained one of the most major challenges in the world. In 2019, over 23 million people were forced from their homes because of weather-related disasters. Climate change could push more than 100 million additional people back into poverty by 2030. As a child-focused organisation, World Vision has been implementing community-based environmentally friendly approaches to bring about sustainable transformation in the lives and livelihoods of the most vulnerable children and their families. In this regard, we have achieved tremendous results through the Drylands Development Programme.
"We've seen the average income per household double to US$1,286 per year[2]", notes Edward Brown, National Director of World Vision in Ethiopia.
"My own rural upbringing attracted me to environmental management, agriculture improvement, and child well-being", shares Assefa Tofu, Drylands Development Programme Manager. "I found many rural communities were facing food and nutrition insecurity and were constrained by increasing poverty because of a degraded natural environment and poorly integrated service providers' support."
ENDS.
Editor Notes:
For further information or to organise an interview please contact, Phone: +251966-270109, Email: Kebede_GizachewAyalew@wvi.org 
World Vision is a Christian humanitarian organisation dedicated to working with children, families, and their communities to reach their full potential by tackling the root causes of poverty and injustice. World Vision serves all people, regardless of religion, race, ethnicity, or gender.  For more information, please visit info_et@wvi.org  or follow us on Twitter https://twitter.com/WorldVisionEth 
---
[1] https://www.energyglobe.info/international
[2] https://www.internal-displacement.org/global-report/grid2020/