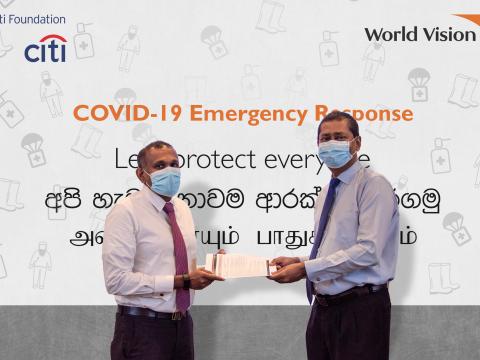 Citi Foundation joins World Vision in the fight against COVID – 19
Friday, July 10, 2020
World Vision partnered with Citi and Citi Foundation to assist the frontline healthcare workers in 16 districts and the most vulnerable communities across Sri Lanka. The contribution by Citi and Citi Foundation amounting to USD 100,000 will facilitate the provision of test kits to the University of Sri Jayewardenepura, distribution of PPEs to frontline healthcare workers and hygiene and disinfectant supplies to the most vulnerable communities in the country.  A fully equipped COVID-19 Testing Laboratory will also be established in Iranawila in the North Western province, as part of the project.
Reiterating that this contribution reinforces Citi's commitment to Sri Lanka and the wellbeing of the nation, Citi Sri Lanka Country Officer Ravin Basnayake said, "We are proud to partner World Vision Lanka to assist in imperative infrastructure and equipment required for frontliners in Sri Lanka's fight against the pandemic.  Being able to touch the lives of vulnerable communities and help in longer term initiatives to combat COVID-19 also adds to that strong commitment we have had since our inception in Sri Lanka over four decades ago."
"Prevention is one of the key areas for World Vision in the COVID-19 Response and we have been continuously supporting the frontline health workers and communities with awareness on prevention and with necessary personal protective equipment, said National Director of World Vision Lanka, Dr. Dhanan Senathirajah, "We are very excited that Citi partnered with us to support the health workers who are in some of the most rural areas and who struggle with lack of access to necessary protective equipment."
World Vision Lanka launched the second phase of the COVID 19 response in 16 districts. The emergency response, commissioned with a sum of $2.3M, focuses on food security, livelihood, health and hygiene, child protection and education of the most vulnerable families.
World Vision Lanka's first phase of the response that concluded recently focused on providing dry rations for families who were struggling with their livelihoods affected and 42,815 such families in 36 locations in 16 Districts were provided with dry rations. The total response, which also included improving preventive measures and supporting crucial needs of health facilities and health workers, amounted to over 70 million rupees.
Through the match-funding fundraising initiative World Vision was able to raise funds to support over 6,400 families with the contribution of corporates, foundations and individual donors.