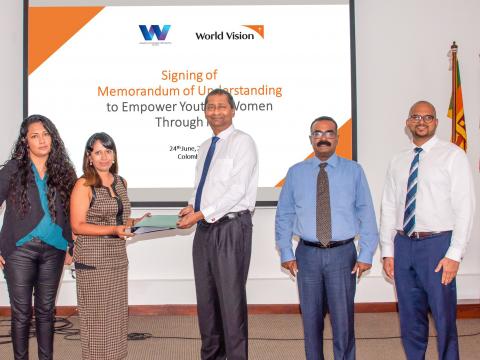 Women's Chamber for Digital Sri Lanka and World Vision to promote digital literacy
Monday, July 6, 2020
3 July 2020, COLOMBO – World Vision partnered with Women's Chamber for Digital Sri Lanka to uplift digital literacy and skills among 240 students, unemployed youth and women entrepreneurs from four districts. The programme conducted in Nuwara Eliya, Puttalam, Batticaloa and Jaffna districts will provide career guidance, ICT Training and Internship in IT firms and help them enter a digital economy.
Women's Chamber for Digital Sri Lanka is a social mission association which aims to empower women through advocacy, mentoring, networking and policy level development in areas of education and entrepreneurship through Information and Communications Technology (ICT).  World Vision Lanka's partnership with Women's Chamber for Digital Sri Lanka is one that aims to create a level playing field for women in business.
"It's vital to find initiatives to empower women to participate in the shared digital future. We believe this partnership with World Vision would help us to reach a broader audience in our efforts of building digital capacities of girls and women to participate fully in this new digital economy", said Jayomi Lokuliyana, the chairperson of WCDSL.
"We believe the tools provided through this training can improve digital literacy ensuring sustainable success, especially among youth and women entrepreneurs to expand their horizon in any chosen vocation. We are glad that we are able to provide these tools for the most vulnerable through our partnership with WCDSL", added the National Director of World Vision Lanka, Dr Dhanan Senathirajah.
World Vision is a development and advocacy organization and works in 34 locations in 16 Districts across Sri Lanka directly impacting nearly 100,000 vulnerable children and their families.