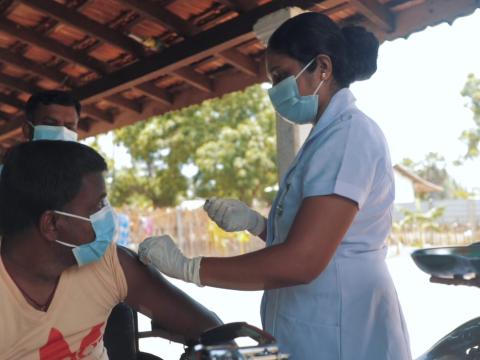 World Vision concludes Covid-19 Response with big impact
Friday, December 16, 2022
World Vision together with the EU Humanitarian Aid concludes COVID-19 Response with big impact
•    35 rural medical facilities provided with essential medical items. 
•    Nuwara Eliya General Hospital received an upgraded Molecular Lab for PCR testing
•    6,048 most vulnerable people, including those with disabilities, pregnant women and the elderly received support to access COVID-19 vaccinations 
 
World Vision concluded its special COVID-19 Response project funded by the EU Humanitarian Aid last week after 12 months of supporting the government in COVID-19 prevention and care in eight districts around the country. The project focused on strengthening the functionality of health systems in 35 rural health facilities in Gampaha, Kurunegala, Jaffna, Kilinochchi, Trincomalee, Batticaloa, Nuwara Eliya and Kandy Districts, providing essential medical equipment for COVID care such as Pulse Oximeters, Defibrillators, sterilisers and ECG machines and with disinfectant and hygiene items related to prevention. Through this assistance the health facilities have received over 300 medical equipment to care-better for COVID patients.
"The main problem we had to face at the start of the pandemic was that we did not have the necessary equipment and the facilities to handle the pandemic. We didn't have enough monitors, pulse oximeters and other medical equipment to treat the patients who would be rushed into the hospitals," said Dr. Dinesh, Dickoya base Hospital, "The equipment that World Vision provided through this project became very helpful in managing COVID patients. Today we continue to use the equipment to care for other patients as well."
The Project also had a special focus on ensuring people with challenges in mobility such as the elderly or persons living with disabilities to receive COVID vaccinations by providing them transport to vaccination centres or receive vaccination at home through mobile vaccination units. Nearly 9,882 people with disabilities have benefitted through this initiative.
"Travelling to vaccine centres was a challenge for the individuals with difficulties related to mobility. There was no one to carry and take them and public transport was not available. They were not getting vaccinated," said Jeevithan Suhanthini, Social Service Officer, Batticaloa. "The programme paved way for medical offices and nurses to do home visits to give out the vaccines to these individuals while providing awareness on the vaccination to their families." 
At the Nuwara Eliya General Hospital the facilities to conduct COVID-19 PCR testing were outdated. The Project renovated the lab to a well-functioning Molecular Lab – the only lab for the entire district that improved the ability to conduct disease surveillance through PCR testing.
"Between May and September 2021 Sri Lanka saw a disturbing rise in the number of patients which increased by nearly 400,000 and this funding received from the EU Humanitarian Aid was very timely," says Dr. Dhanan Senathirajah, National Director World Vision Lanka. "It helped us reach medical facilities that needed support the most and to reach out to the most vulnerable populations who otherwise may not have had the opportunity to be vaccinated simply because they couldn't reach the vaccine centres. We are very glad that we could also support the frontline health workforce with items such as PPEs and other essential items related to prevention so that they too stay safe while caring for the patients."
Since the identification of Sri Lanka's first COVID-19 patient in March 2020, World Vision Lanka has been continuously working with the Ministry of Health, national and district level disaster management centres, divisional secretariats, UN organisations and corporate actors to support the country's efforts in fighting the pandemic. World Vision Lanka's COVID-19 Response focused on scaling up preventive measures, strengthening the health system and workers and supporting children through protection, education and nutrition, and reached over 400,000 individuals.
World Vision works through its main sectors – education, health and nutrition, water and sanitation, economic development and child protection – serving all people, regardless of religion, race, ethnicity, or gender. World Vision has been in Sri Lanka since 1977 and currently serves in 32 locations in 15 districts across the country through its long-term development programmes. In 2021, World Vision Lanka directly impacted nearly 100,000 children and their families.
The European Union and its Member States are the world's leading donor of humanitarian aid. Relief assistance is an expression of European solidarity with people in need all around the world. It aims to save lives, prevent and alleviate human suffering, and safeguard the integrity and human dignity of populations affected by natural disasters and man-made crises.
Through its Civil Protection and Humanitarian Aid Operations department, the European Union helps millions of victims of conflict and disasters every year. With headquarters in Brussels and a global network of field offices, the EU provides assistance to the most vulnerable people on the basis of humanitarian needs.