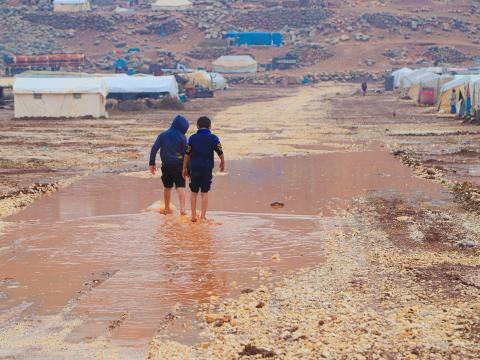 Death of 8-year old girl due to severe weather in Syria is a "tragedy" - World Vision
Saturday, April 1, 2023
Thursday, 30 March 2023 - World Vision are sad to announce the tragic loss of an eight year-old girl in an internally displaced persons (IDP) camp in Idleb governorate of Northwest Syria  due to the severe windstorm and expresses deep concern over the incident.
"The weather has been highly unstable in Northern Syria, with alternating rain and wind. Weather centers warned of a potential windstorm with high speeds on Wednesday, 29 March. The winds reached their peak, causing tents in displacement camps to collapse and blow away, as well as exacerbating damage to homes already *impacted by the 6 February earthquakes. People in the camps were panicked and fearful, as their tents could not withstand such strong winds. Despite attempting to secure their tents with rocks and ropes, time was limited, and some lives were tragically lost," reported a World Vision staff member.
The earthquakes that struck Türkiye and northern Syria on February 6 had a devastating impact, leaving numerous individuals without proper shelter, food, water, and essential services. Syrians now face a disaster compounding an existing epidemic. In the midst of an ongoing cholera epidemic and a prolonged water scarcity crisis, the unstable weather conditions have further worsened the situation.
"The young girl who was killed was a second-grade student at a learning center established in the camp, which is supported by World Vision. Our hearts go out to her family and loved ones during this difficult time. The safety and well-being of vulnerable populations, especially children, remain our utmost priority, particularly after 12 years of conflict in Syria, and the recent devastating earthquakes." Said Johan Mooij, Response Director for World Vision's Syria Response. 
World Vision promptly responded to the earthquakes in Syria and Türkiye, mobilizing teams and supporting local partners to provide life-saving assistance to over 50,000 people. We continue to address evolving needs in areas like WASH, education, health, nutrition, shelter, and protection through local NGOs, with 70% of our funding directed to these organizations.
ENDS.
For more information, please contact:  Hamzah Barhameyeh, World Vision Syria Response Communications & Advocacy Manager, Email: hamzah_barhameyeh@wvi.org
World Vision is a global humanitarian organization dedicated to working with children, families and their communities to reach their full potential by tackling the root causes of poverty and injustice. World Vision serves all people, regardless of religion, race, ethnicity or gender.  For more information, please visit https://www.wvi.org/syria-response or follow us on Twitter @WorldVisionSR. 
World Vision Syria Response has been operating inside Syria, Jordan and Türkiye since 2011, where we provide life-saving protection, education, WASH, livelihoods and health services to refugees and local communities.