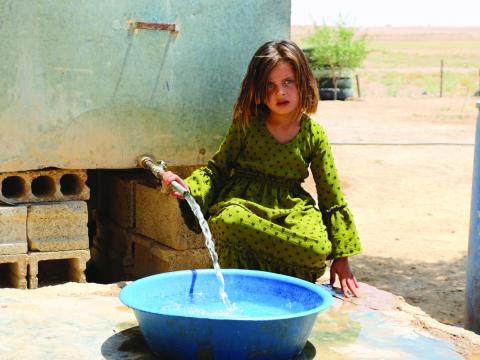 Hundreds of thousands of Syrian children's lives at risk as cholera cases rapidly increase 
Thursday, September 22, 2022
Amman, 22 September 2022 – International aid agency, World Vision, is warning that children's lives in Syria are hanging by a thread as cholera cases have almost doubled1 since the outbreak was declared on 10 September. Hundreds of thousands of children, most notably those with chronic and acute malnutrition, are now at high risk of developing severe symptoms or even dying if timely treatment is not made available.   
Cholera, the acute, water-borne infectious disease, brought on by the consumption of contaminated drinking water and food, is currently spreading among the Syrian population at an alarming rate. The disease affects both children and adults and can kill within hours if untreated, but is a greater risk to malnourished children as their ability to fight infections is weakened and diarrhea causes rapid dehydration. Over 2,500 people have been infected so far across northern Syria – 611 of them are children under 5[1]. The first confirmed case in Northwest Syria was reported on 19 September.   
To avoid yet another health crisis, World Vision is rapidly responding at the forefront of the outbreak in Northwest Syria, but time is of the essence and additional resources are urgently needed.  
"With a decimated health system, these children's lives are in peril as medical treatment and capacities to respond to the current outbreak are scarce," said Johan Mooij, World Vision's Response Director in Syria. "There are 800,000 girls and boys at risk of hunger across the country who are malnourished, and 15% of those living in the hardest hit areas in Northwest are acutely malnourished. The time is now for donors and governments to put Syria back on their priority list and commit resources for an adequate and fully capacitated response", said Johan.
In Syria, the conflict-driven structural damage to water networks and the growing economic crisis is creating a situation where people are unable to affordable clean water. This is leading to grave concerns over a drastic increase of more severe cases reported across northern Syria, and a dramatic spike in mortality in the coming weeks is imminent.   
''The reality is that growing cholera cases affect those internally displaced the worst with only 22% of the people living in informal settlements having access to sufficient water in the most affected cholera area so far[2]. According to the latest assessments in Northeast Syria, almost all internally displaced sites (95%) and communities (90%) cannot afford treatment even when public health facilities are available to them[3]. The urgency of the situation could not be direr," said Mooij.  
 World Vision's Syria response has been delivering emergency water and sanitation supplies to displaced and host communities since 2013, providing water disinfection materials and health medications, across all operational areas, but it's not enough. We are calling on all donors to expedite support with additional funding for water disinfection materials, health medications and equipment for cholera treatment.  
 "The time to act is now because without access to clean water, more people will get sick and the potential for lives lost only increases, " added Mooij. 
ENDS
For more information please contact:
Alexandra Matei, World Vision Syria Response Advocacy and Communications Director at Alexandra_matei@wvi.org, +962778482436
[1] According to the Government of Syria's Ministry of Health and Autonomous Administration of North and East Syria's Health committee.
[2] REACH brief for Northeast Syria on the Cholera Outbreak, September 2022. Unpublished.
[3] Ibid 2