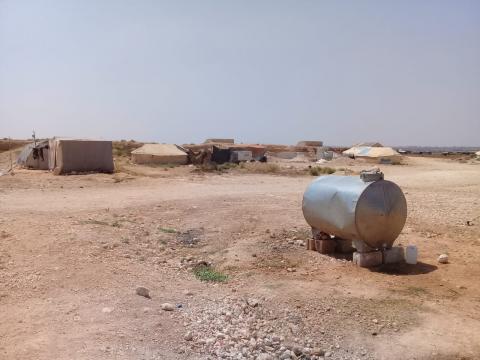 Death of two World Vision supported children by unexploded ordnance in Northern Syria is unacceptable
Wednesday, August 25, 2021
World Vision is horrified to learn of the death of two displaced boys in the vicinity of Syria's Idlib Al-Abrar camp, who were killed by unexploded remnants of war. The children, age 7 and 11, were playing after school with a metal object they had found 500 meters away from the camp, and brought home. The object detonated as they played with it. While the two brothers have sadly lost their lives, their three sisters have also been injured.
The five children involved in this accident are part of World Vision's informal education project that has been running in the area since May 2021. "Our teams on the ground have temporarily suspended operations to assess the risks and ensure close coordination with mine actors, as well as our local partners on the ground. The project targets more than 5,000 children and teachers with formal and informal education services to ensure continued learning for displaced girls and boys", reports Johan Mooij, World Vision Syria Response Director.
The events are becoming all too frequent. Just two months ago, one hundred girls and boys could have died as a shelling attack targeted the mosque close to this same educational facility. Fortunately, there were no casualties reported then.
Yet, one child dies every eight hours inside Syria[1]. This is 55,000 girls and boys who have reportedly lost their lives since the conflict started.[2] This has been one of deadliest summers for Syria's children – 45 of them have been killed and injured as reported by the United Nations.[3]
"The avoidable death of children is another horrible reminder that children remain the direct and indirect victims of the decade long protracted conflict. All warring parties must abide by their obligations under international law to immediately end violations against children, adds Mooij. Children are at particular risk from unexploded ordnance, IEDs, ERW, which are small enough to pick up or kick around, and which children can mistake for toys.
World Vision calls on all parties to the ongoing conflict to protect children and prioritise their wellbeing at all times. Playing fields, mosques, schoolyards, camps and communities must be safe for children.
ENDS
For more information please contact:
Alexandra Matei, World Vision Syria Response Advocacy and Communications Director at Alexandra_matei@wvi.org, +962778482436
NOTES:
World Vision has currently suspended operations for the next days in the informal educational facility. The team is expected to resume physical activities next week.

World Vision is coordinating with mine actors to assess the situation in the area and the potential further risks associated. Two weeks ago, one

mine awareness raising session

has already been conducted with staff and teachers part of the project area to ensure children and their families are safe.

World Vision is providing ongoing psychosocial support to the family affected while assessing their needs.
[1] UNICEF Press Release, 12 March 2021, Syria War: Average of one child injured or killed every eight hours over the past 10 years. Available online here: https://news.un.org/en/story/2021/03/1087212
[2] World Vision International report, 4 March 2021, Too High a Price to Pay. Available online here: https://www.wvi.org/emergencies/syria-crisis-response/syria10/cost-conflict-syrias-children
[3] UNICEF Press Release, 9 August 2021, Escalation of Violence in Syria Kills and Injures 45 children since the beginning of July. Available online here: https://reliefweb.int/report/syrian-arab-republic/escalation-violence-syria-kills-and-injures-45-children-beginning-july