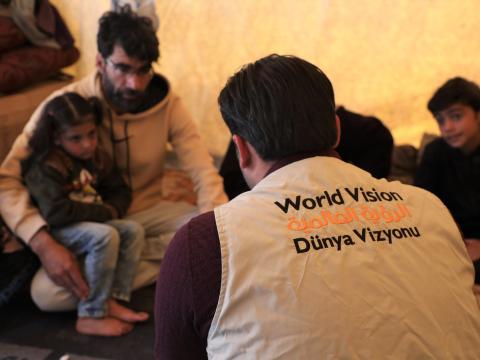 Deepening mental health crisis in Syria, following last month's earthquakes, warns World Vision  
Monday, March 6, 2023
94% of surveyed families have some form of damage to their homes and 51% have had their homes destroyed in Northwest Syria

84% said earthquake had impacted their children's ability to access education

leaving them at risk of abuse and exploitation

World Vision experts warn of compounded trauma can lead to the "ultimate" form of negative coping mechanisms in many cases

Previous research conducted by partners in 2021 found that

100% of displaced under 18s

in Idleb showed symptoms of Post-Traumatic Stress Disorder,

these children now further traumatised by earthquake

Recent research conducted by World Vision in 2022 showed that 66% of respondents believed children were "very likely" to act on suicidal thoughts
Monday, 6th March, 2023 There is a mental health crisis, especially among children, in Northwest Syria, as a result of the earthquakes which first struck on February 6, 2023 (one month ago today) and the conflict which began 12 years ago this month.  Even prior to last month's earthquakes, the wide majority of children in Northwest Syria were experiencing symptoms of post-traumatic stress disorder (PTSD) due to the conflict. However, mental health experts at World Vision, a child-focused NGO who have been working in Syria since 2013, believe that the devastation of February 6's 7.8 magnitude earthquake, and the series of aftershocks and displacement resulting from it, will further worsen the mental health needs of children and their families as additional people might develop symptoms of PTSD.
"It was a very harsh day on us. We kept looking for dead bodies under the rubble from dawn to the following night. The pavement in front of the hospital was full of dead bodies covered in black bags. Some families died and had no one to bury them... I try to hold my emotions in front of them, however... my psychological state is not good at all. I am not able to provide anything for them" said a 38-year-old resident of Northwest Syria.
The scale of displacement is still being counted, however a rapid needs assessment conducted by World Vision of 322 families in Northwest Syria found that 94% of surveyed families' homes and shelters had been damaged by the earthquake and 51% had their homes destroyed. The assessment found that 82% of were sheltering in collective shelters as a result of these damages. In addition, 42% of respondents reported that education facilities had been damaged in their neighbourhoods, and 84% of them said the earthquake had impacted their children's ability to access education services, which in turn increases the risk of child exploitation, child labour, child marriage and other risks facing children.
A study conducted by World Vision last year had already shown that 66% of respondents believed children were "very likely" to act on suicidal thoughts due to the overall stressful environment in which they were being raised. Another study done by a World Vision partner in the height of the escalation of violence in Idleb in 2021, had also found that 100% of displaced under 18s in the area showed symptoms of Post-Traumatic Stress Disorder (PTSD).  Further research conducted by World Vision has explored the negative coping mechanisms many Syrians have been resorting to, which has seen a rise in suicidal tendencies, chronic gender based violence (GBV), child marriage and child labour.
Johan Mooij, World Vision Syria Response's Director, says:
"Headlines are slowing down, the cameras have left while piles of rubble have not moved, bodies have not been found, and children, in many of the cases have not been able to bury parents and loved ones. However, the lasting carnage of the earthquake and 12 years of conflict is not just the visible destruction, but the mental and emotional damage too. Sadly, the children in Northwest Syria are no strangers to persistent, pervasive and catastrophic trauma.  
"Mental health experts at World Vision who have witnessed horror scenarios like this unfold before, have said that this level of mental anguish and suffering, if left untreated, will lead to a mental health catastrophe that was already growing due to the protracted conflict in Syria. One month on since the devastating earthquake hit Türkiye and Syria, the scale of the humanitarian response has yet to meet the enormous needs of displaced Syrian families and children who have suffered from compounded crises for almost 12 years now. It is crucial that all access channels to northwest Syria remain open, and that aid deliveries are scaled up through earmarked funding for the emergency response. Only this will ensure that children's mental health needs are covered and their trauma addressed."
Phiona Koyiet, Senior Technical Advisor on Mental Health at World Vision, says:
"Childhood exposure to adversity may result in a variety of behavioural and emotional problems—for example, increased risk taking, suicide, aggressive behaviour, and difficulties in relationships with others. Of great concern is the development of post-traumatic stress disorder (PTSD), particularly following events such as the recent earthquake.
Previous studies found Earthquakes to be associated with increased prevalence of psychiatric disorders such as post-traumatic stress disorder (PTSD), depression and anxiety. Before the earthquake, children in Syria have been exposed to prolonged activation of the stress response systems that can disrupt the development of brain architecture and other organ systems and increase the risk for stress related disease and cognitive impairment, well into the adult years.
As we commemorate a month since this earthquake ripped through Syria and Türkiye, it is essential that donors and aid agencies prioritise mental health support for children as they struggle to deal with the devastating impact that this adverse exposure to distress has had on their young lives."
ENDS.
Notes to  editors:
World Vision is a Christian humanitarian and development organisation dedicated to working with children, families and their communities to reach their full potential by tackling the root causes of poverty and injustice.   
World Vision serves all people, regardless of religion, race, ethnicity or gender.  For more information, please visit www.wvi.org or follow us on Twitter @WorldVision    
For more information please contact:  Hamzah Barhameyeh, World Vision Syria Response Communications Manager, Email: hamzah_barhameyeh@wvi.org