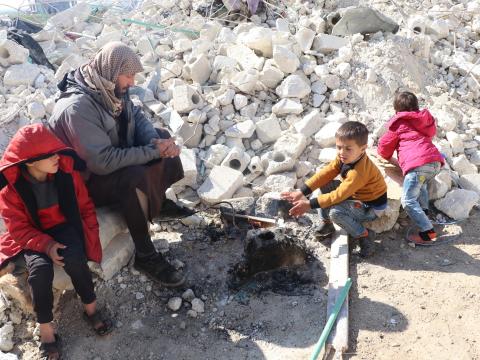 World Vision warns of spiralling health crisis and spread of disease in Syria following earthquakes   
Friday, February 10, 2023
World Vision is concerned about growing health needs in Syria where health facilities are overwhelmed by the wounded and operating at very limited capacity

Very little humanitarian aid has reached Northwest Syria in the past 4 days, and medical supplies are running out

Doctors have warned that children are at risk of developing hypothermia and being exposed to waterborne diseases

Health facilities were already overstretched and waterborne disease outbreaks were occurring prior to Monday's earthquakes
February 10, 2023 – World Vision is concerned about growing health needs in Syria following the 7.8 magnitude earthquake that hit Southern Türkiye and Northern Syria on February 6th.  Humanitarian aid has been slow to reach Northwest Syria as the very first cross-border shipments arrived yesterday, already three days after the earthquake hit, and medical supplies remain particularly lacking and local stocks are quickly running out.
Health facilities continue to face the unimaginable task of responding to the enormous needs with very limited resources. Injured women, men and children have lined up their emergency rooms in the past few days and needs are growing as more survivors are pulled from under the rubble in critical condition. Doctors have warned that children are at risk of developing hypothermia and being exposed to waterborne diseases such as cholera or hepatitis A due to the decimated conditions of shelters and water infrastructure following the earthquakes.
The health situation in Northwest Syria was already critical prior to the earthquake, as a cholera outbreak was declared last September, putting the lives of hundreds of children at risk. Malnutrition and stunting is also on the rise, with mothers and children being particularly impacted. Their situation will only deteriorate if humanitarian aid is not scaled up accordingly.
Johan Mooij, World Vision Syria Response's National Director says:  
"We are working tirelessly to make sure the most urgent needs are covered during these very challenging times. So far, very little aid has made it into Northwest Syria while hundreds of thousands of children and their families remain stranded out in the cold. Hospital facilities are particularly overwhelmed by the wounded and need more medical supplies. In addition, the poor access to clean and hygienic water has further deteriorated due to the earthquake. This has previously led to waterborne diseases, like cholera, spreading.
"This earthquake has created the perfect environment for a health crisis – fuelled by reduced healthcare capacity and disease outbreaks. "
World Vision teams responded quickly last Monday to assess the most urgent needs on the ground. We have provided 17,000 litres of fuel to health facilities as well as search and rescue teams in Northwest Syria to enable them to keep running their operations transporting and treating the wounded. World Vision has also provided much needed heaters and fuel to more than 1,605 impacted households seeking refuge in collective shelters scattered across the Northwest. This will allow displaced families to keep the power running and stay warm until more temporary solutions are found.
Mr Mooij adds: 
"Humanitarian access must remain open and assistance must be scaled up so that we can avoid a much bigger crisis. Children are in desperate need of support in Syria. Even before Monday's earthquake, conflict had meant that hundreds of thousands were already struggling to survive and now their homes have been devastated, leaving them with no shelter, no schools and no medical services." 
 
 
ENDS. 
For more information please contact:  Hamzah Barhameyeh, World Vision Syria Response Communications Manager, Email: hamzah_barhameyeh@wvi.org