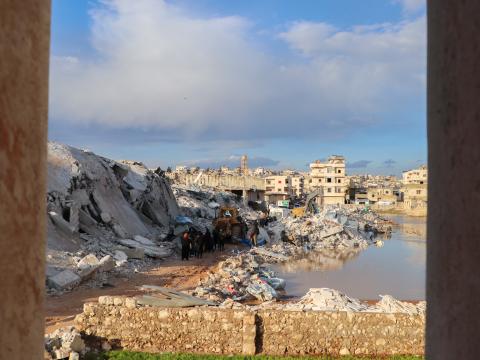 Earthquake-impacted children in Türkiye and Syria still recovering from aftershocks three months on
Saturday, May 6, 2023
Saturday, 6 May 2023 - Today marks three months since the catastrophic earthquakes struck Northern Syria and Southern Türkiye on February 6, 2023, causing massive devastation. The natural disaster resulted in tens of thousands of deaths, injuries, and broken family links, as hundreds of children found themselves unaccompanied having lost one or both of their primary caregivers. The ongoing humanitarian crisis in Syria has become even more complex, with approximately 90% of Syrian families living in poverty and over 50% grappling with food insecurity. The earthquakes and aftershocks have further compounded the situation, leaving affected populations in urgent need of food, water, shelter, and emergency medical and psychosocial support.
The earthquakes that struck Syria and Türkiye on February 6, 2023, inflicted immense destruction and suffering, resulting in over 4,500 deaths and 10,400 injuries in Northwest Syria alone. At least 148 communities in Northwest Syria have been affected, with 10,600 buildings destroyed to varying extents. In Türkiye, 9.1 million people have been impacted, with 3 million compelled to relocate from their homes and 50,000 lives lost.
A recent Disaster Impact Assessment conducted by World Vision has highlighted the critical humanitarian needs in the areas affected by the catastrophic earthquakes that struck Syria and Türkiye. The assessment findings reveal urgent needs for alternative housing, disaster preparedness, better intervention coordination, cash support, job opportunities, livelihood recovery, health services, medical supplies, and nutrition support. The study also shows that 20% of respondents still experience strong negative feelings, indicating an immediate need for protection and mental health interventions.
World Vision's interventions have provided aid to 164,235 beneficiaries in Syria and 8,510 in Türkiye, delivering services such as bedding, cash assistance, fuel supplies, heating devices, hygiene kits, primary healthcare consultations, and food support.
World Vision urges the international community to promptly deliver the €7 billion pledged in March for earthquake relief during the 'Together for the People of Türkiye and Syria' International Donors' Conference. The funds are crucial to addressing the urgent humanitarian needs and reconstruction efforts in both countries, supporting early recovery and resilience for populations affected. Swift action is needed to convert these pledges into tangible support for the millions of people impacted by the devastating earthquakes.
Johan Mooij, Response Director for World Vision's Syria Response, underscores the importance of sustained support and assistance for the affected communities: "The relentless suffering in Syria and Türkiye, intensified by the devastating earthquakes, is a stark reminder of our collective responsibility to alleviate the hardships faced by vulnerable communities. We must amplify our efforts and commitments to ensure a comprehensive, sustainable, and brighter future for the affected children and their families. Let us not forget that our unwavering support today can foster hope and resilience, empowering these communities to rebuild their lives and dreams."
 Clynton Beukes, Programs Director for WV Syria Response, emphasized the need for increased funding: "The current funding is insufficient to address the overwhelming needs in Northwest Syria. Although private donations have provided some support, institutional donors must contribute more to meet the communities' extensive requirements. The existing funding addresses the immediate crisis but falls short in facilitating long-term recovery and healing. Considering the severe humanitarian situation before the earthquake, we urgently need funding that effectively tackles the exacerbated needs. Additionally, we should focus on localization and empowering local partners, as more than 70% of our earthquake relief funding has gone to local organizations."
ENDS
For more information, please contact:  Hamzah Barhameyeh, World Vision Syria Response Communications & Advocacy Manager, Email: hamzah_barhameyeh@wvi.org
World Vision is a global humanitarian organization dedicated to working with children, families and their communities to reach their full potential by tackling the root causes of poverty and injustice. World Vision serves all people, regardless of religion, race, ethnicity or gender.  For more information, please visit https://www.wvi.org/syria-response or follow us on Twitter @WorldVisionSR.
World Vision Syria Response has been operating inside Syria, Jordan and Türkiye since 2011, where we provide life-saving protection, education, WASH, livelihoods and health services to refugees and local communities.