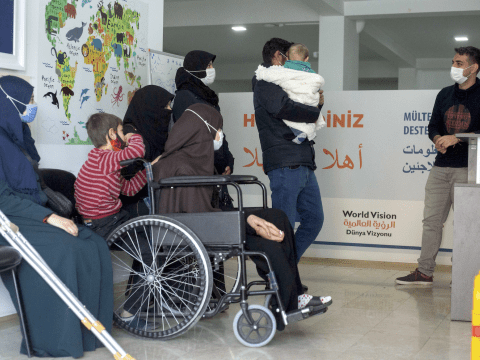 Months of Continuous Protection Support to Refugees Bear Fruits
Tuesday, December 1, 2020
Tuesday, 1 December 2020 – The international child rights aid agency World Vision has improved the lives of more than 10,000 refugees in Turkey, including 3,600 children, with the support of the European Union's Civil Protection and Humanitarian Aid Operations Directorate. The 18-month long project, 'Providing information and protection assistance to vulnerable refugees in Turkey and enhancing community-based protection', has helped ensure the most vulnerable refugees are protected from harm and have access to the most needed services until lasting solutions are found.
Turkey hosts the largest population of Syrian refugees; 3.6 million out of almost 4 million refugees are Syrians and 1.6 million of them are children. As conditions have significantly worsened for them since the outbreak of the COVID-19 pandemic, the protection and health risks they are exposed to, have also increased.
"Coronavirus has impacted all of us, but it has had particularly severe ramifications for those who were already struggling to get by before the pandemic hit. The virus has created new additional challenges for the most vulnerable and many Syrian refugees are among the hardest hit. Together with our partner organisations, we continue delivering urgently needed humanitarian aid to help those most in need amidst the pandemic. This project has helped refugees regain control of their lives by offering them access to accurate, timely and reliable information and important services in Turkey," said Claudia Amaral, Head of the European Union Civil Protection and Humanitarian Aid Office in Turkey. The project started in May 2019 and has since delivered essential services through a strong partnership with local civil society organisations in Ankara and Istanbul - the International Blue Crescent Relief and Development Foundation (IBC) and the Research Centre on Asylum and Migration (IGAM).
"Despite the challenges amidst the COVID-19 pandemic, our partners and team on the ground continued to deliver services remotely. No one was left behind during these difficult times. Through the three info-hubs, we have helped more people than ever before and given hope to those not able to get the temporary protection identification card due to lack of information or simply because they do not speak the language," said Johan Mooij, World Vision Syria Response Director.
World Vision's local partners have provided essential services to 4,000 women and 2,400 men, including information sharing on access to services, legal counselling, psychosocial support, helping refugees overcome language barriers, on-site support with local authorities and referring them to other organisations, as needed. Child-focused activities were also carried out to help them cope with the stressful situation they are exposed to, and the trauma of having experienced conflict and insecurity.
ENDS
About World Vision International
World Vision is a global relief, development and advocacy organisation dedicated to working with children, families and communities to overcome poverty and injustice. World Vision serves all people, regardless of religion, race, ethnicity or gender.
World Vision is working with children and families affected by the Syria crisis across the region and has reached 2,876,236 people across the north-western part of Syria, Turkey, Lebanon, Jordan and Iraq.
World Vision has been operating in Turkey since July 2015, with the response to an influx of almost 25,000 Syrian refugees in Sanliurfa. Since then, World Vision's programmes in Turkey have increased and the international aid organisation is currently implementing protection projects in Ankara and Istanbul through local partner organisations. Since 2016, over 74,350 refugees have benefited from protection services through the establishment of Info Hubs centres to provide the information and protection assistance and to link them to the state services, under continuous funding by the European Civil Protection and Humanitarian Aid Operations (ECHO).
About European Civil Protection and Humanitarian Aid Operations
The European Union and its Member States are the world's leading donor of humanitarian aid. Relief assistance is an expression of European solidarity with people in need all around the world. It aims to save lives, prevent and alleviate human suffering, and safeguard the integrity and human dignity of populations affected by disasters and man-made crises.
Through its Civil Protection and Humanitarian aid Operations Directorate-General (DG ECHO), the European Union helps millions of victims of conflict and disasters every year. With headquarters in Brussels and a global network of field offices, the EU provides assistance to the most vulnerable people on the basis of humanitarian needs.
Notes to editors
Photos of the project activities are available for free use and distribution.
To learn more about the Research Centre on Asylum and Migration (IGAM)'s intervention in this project, click here.
To learn more about the International Blue Crescent Relief (IBC)'s intervention in this project, click here.
For media enquiries please contact:
Alexandra Matei, Syria Response Advocacy and Communications Director, World Vision International
+962 778482436 | Alexandra_Matei@wvi.org
Yusuf Avci, Turkey Portfolio Manager, World Vision International,
+905351053487 | Yusuf_Avci@wvi.org
Lisa Hastert, Regional Information Officer, Ankara the European Civil Protection and Humanitarian Aid Operations (ECHO)
+90 533 412 56 63 | Lisa.Hastert@echofield.eu