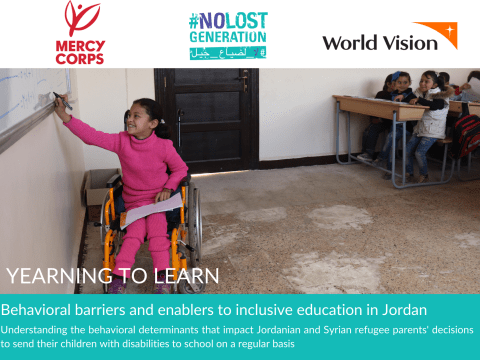 New NLG report delves into enabling factors and barriers to education faced by parents of children with disabilities in Jordan
Tuesday, March 22, 2022
Parents who do not send their children to school lack any support networks at the family or community levels.  

They are also more concerned about bullying and stigma at school, due to a child's disability. 
Parents who do send children to school are more likely to value education as a means of building a better life for their children  

They also trust more that their faith encourages a child's right to education. 
Amman, Jordan - 14 March 2022 Children with disabilities make up for a large proportion of those missing out on education in Jordan, and these gaps are being addressed under the Ministry of Education (MOE) and Higher Council for the Rights of Persons with Disabilities' (HCD) 10-year strategy. Accelerating progress for inclusive education for these children, from refugee and host communities has become critical if we are to avoid a lost generation. World Vision and Mercy Corps latest report looked into the perceptions and behaviours of parents with children with disabilities of pre-primary and primary school age to better understand the enablers and barriers they face in taking a simple decision: can they send their children to school or not.  
The report "Yearning to Learn" sheds light of the challenges parents of children with disabilities face based on discussions with more than 250 Jordanian and Syrian refugee parents in both camp and host community settings, in addition to focus group discussions with more than a dozen teachers.  
Over the last years, the COVID-19 pandemic and the strict lockdown periods did not ease children's access to education, and those living with disabilities and their parents or caregivers were particularly affected. Their vulnerability was further aggravated by the lack of tailored support and adapted learning content during school closures. What the report reveals is that some decision-making factors matter more than others for parents and caregivers who need to send their children with disabilities to school.  
"The social norms and support networks that exist at the community and family level is existential for parents and caregivers. When they feel supported, encouraged and surrounded by family or community members, these parents are encouraged to keep their child living with disabilities in school. They are also more likely to value this learning the child is receiving being optimistic of their future", explains Alexandra Matei, World Vision's Advocacy and Communications Director for Syria Response and No Lost Generation Co-Chair. 
"On the other hand, the parents who are reluctant to send their children living with disabilities to school have demonstrated a serious concern regarding the bullying and stigma their children could experience, in addition to the educational establishments' capacity to integrate their children into the school setting", adds Maisa Asmar, Education Program Manager at Mercy Corps in Jordan. 
The perceptions of these parents reflect on a particular barrier these children are exposed to, which keeps them far from learning. Engaging directly with children with disabilities and their parents to identify and address these behavioral barriers to their regular school attendance, ability to set learning goals, and capacity to create supportive learning environments in the home must not be overlooked when educational actors prepare to address their educational needs. 
ENDs 
For more information please contact:  
Evita M. Jourdi, NLG Advocacy adviser consultant: evita_jourdi@consultant.wvi.org 
Editor Notes:  
World Vision International is a Christian relief, development and advocacy organization dedicated to working with children, families and communities worldwide to reach their full potential by tackling the causes of poverty and injustice. World Vision International is dedicated to working with the world's most vulnerable people. World Vision International serves all people regardless of religion, race, ethnicity or gender.  
Mercy Corps is a global team of humanitarians working together on the front lines of today's biggest crises to create a future of possibility, where everyone can prosper. Its mission is to alleviate suffering, poverty and oppression by helping people build secure, productive and just communities.  
No Lost Generation is an initiative set up in 2013 by humanitarian and development actors, including Non-Governmental Organizations and United Nations agencies in support of children and youth affected by the Syrian crisis, with a particular focus on education and child protection. The initiative is supported by 51 governments and donors.