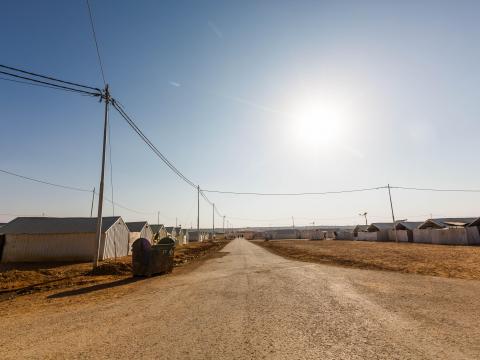 Two positive COVID-19 cases reported in Azraq Refugee Camp
Wednesday, September 9, 2020
September 8, 2020, Amman, Jordan -  Two new COVID-19 cases have been confirmed positive yesterday in Jordan's Azraq Refugee Camp which hosts 36,800 number of Syrian refugees. The United Nations High Commissioner for Refugees (UNHCR) has confirmed the cases. Monitoring and preventive measures to contain the spread of the virus have been immediately taken. Yet, with the rise of cases continuing across the country, World Vision is concerned about almost 22,500 refugee children still in the camp who are exposed to vulnerabilities that increase every single day.  
These latest confirmed cases prove once more the immense vulnerabilities refugees face as the country is struggling to flatten the curve outside the camp. WV is sounding the alarm for international actors to shoulder the responsibility towards the most vulnerable children and scale up assistance. Currently, the Jordan Covid-19 response plan is completely under-funded and 78% is still needed to cover all the Syria crisis needs. 
Johan Mooij, Syria Response Director at World Vision said: 
"The Jordanian Government and the camp management have been exerting tremendous efforts to keep the camp free from the virus. Unfortunately, the situation has changed now and while we are certain the best practices will be implemented, children's safety and well being are our top priority; 21 per cent of those residing in the camp are under five years old, while a hundred of them are unaccompanied or separated from their families; should a lockdown be enforced again inside the camp, they will be at an increased risk to miss out on essential activities for their development that are offered by different humanitarians on the ground."
Ever since COVID-19 surfaced in the country last March, all humanitarian workers and visitors entering the camp had their temperature screened at the camp's entrance. The camp management has also been using quarantine and isolation sites for about 850 returnees. 
"What worries us most right now is the possibility of aid agencies suspending their activities due to numbers of positive cases increasing. We are monitoring what new regulations might be introduced. Despite having contingency plans to resume our projects inside the camp amidst the current pandemic, we are concerned that child protection activities, in particular, would be heavily affected and might need to be implemented remotely. Having to keep switching between remote and in-person activities will have a tremendous psychological impact on children as we know from our experience. Protecting children and ensuring their access to education is the most critical need so the world does not lose an entire generation," added Mr. Mooij.
In Jordan, World Vision has been working inside Azraq Refugee Camp since 2013 and is currently providing education, child protection, peacebuilding and psychosocial support projects, in addition to solid waste management and the school children feeding programme.