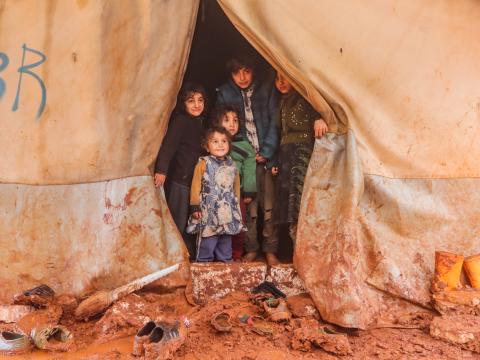 UN Security Council: Don't cut critical lifeline for millions of Syrian children when needs have never been greater
Friday, July 8, 2022
The UN Security Council's failure to adopt a resolution reauthorising the UN's cross-border operations into Northwest Syria for the necessary 12 months today is another devastating blow for millions already suffering the impacts of protracted conflict. Now in the eleventh year of war, humanitarian needs in Syria have never been higher—up 20% in the last year—and they continue to soar. Syrian families are on the brink, their coping mechanisms exhausted, and children are paying the price. More predictable humanitarian access, not less, is what is needed to save lives.
World Vision is deeply disappointed that despite the efforts of most Council members to reauthorise the UN's cross-border mechanism, the use of a permanent member's veto power has put this necessity for humanitarian operations in jeopardy, just days before the current resolution is set to expire.
Andrew Morley, President and CEO of World Vision International, said: "Girls and boys in Northwest Syria are living through heart-breaking horrors that no child should ever have to endure. The conflict and other crises have left families struggling to provide for and protect their children. We are doing all we can, but cutting off this vital lifeline would have catastrophic consequences for the most vulnerable.
"We simply cannot allow this to happen. Members of the Security Council should get back around the table and find a solution immediately, for the sake of more than 4 million people who need our support now more than ever. We hope and pray they do the right thing."
World Vision has been responding to the devastating impacts of this protracted conflict for over a decade. There is currently no alternative aid modality to replace the scale, scope and transparency of the UN's cross-border mechanism. Without a 12-month reauthorisation of this vital lifeline, the ability of aid agencies to deliver to simply meet minimum needs will be compromised, leaving Syrian families with uncertainty, just as winter approaches. Children will be forced into further suffering, with less access to life-saving assistance.  
World Vision calls on the Security Council to urgently reconvene and find a solution to reauthorise the UN's cross-border operations. There is no justification for allowing these negotiations to run up to the 10th July deadline or for prioritizing politics over the humanitarian imperative.