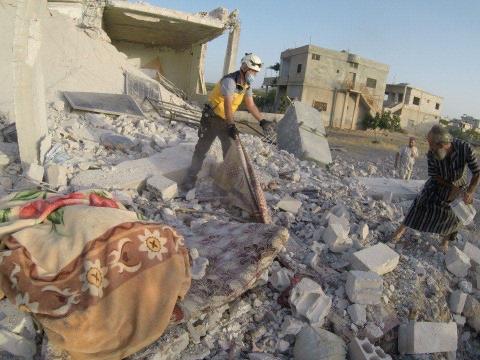 World Vision strongly condemns the artillery attack in Syria that killed nine people including seven children 
Monday, July 5, 2021
Monday July 5th, 2021.
Seven children were among nine people killed by an artillery attack in Northwest Syria on Saturday, July 3rd. World Vision condemns the attack and tragic loss of life that has occurred just days before the UN Security Council votes on cross border aid for the region.
Recently, it has been verified 512 children were killed in Syria in 2020, mainly in northwest Syria's Idlib area, predominantly due to airstrikes. 1.7 million girls and boys live in northwest Syria [1], many whom are forcibly displaced and still in need of urgent assistance.
Johan Mooij, Syria Response Director at World Vision International, said: "We are devastated to learn that more innocent lives have been cut short. This most recent attack& has killed 5 girls and 2 boys aged between 10 and 14 years old. As we mourn with the families that have lost loved ones, our concern and alarm are growing at the continuing price children are paying throughout this devastating conflict. This new attack comes at a time when World Vision partners on the ground are already finding it increasingly difficult to operate and reach those in desperate need."
"We urgently call for an immediate ceasefire to de-escalate the situation. We further call on the UN Security Council Member States to re-authorise and expand the cross-border access into Northern Syrian for at least 12 months, to ensure humanitarian aid can reach children and other vulnerable populations. Governments must do all that is in their power to ensure these critical services provided reach the most vulnerable," adds Mooij.
 ENDS.
Note to editor
For more ;information, contact Alexandra Matei, World Vision Syria Response Advocacy and Communications Director. Email: alexandra_matei@wvi.org
 World Vision is a global humanitarian organisation dedicated to working with children, families and their communities to reach their full potential by tackling the root causes of poverty and injustice. World Vision serves all people, regardless of religion, race, ethnicity or gender.  For more information, please visit www.wvi.org/syria-response or follow us on Twitter @WorldVisionSR.
World Vision Syria Response has been operating inside Syria, Jordan and Turkey since 2011, where we provide life-saving protection, education, WASH, livelihoods and health services to refugees and local communities, impacted by the ongoing conflict now in its 10th year. In 2019 alone we have reached close to 3 million people, including 1.5 million people with critical health services since the beginning of the year. More than half are children.
[1] Children and Armed Conflict Report, UN Secretary General, June 2021, p:24.