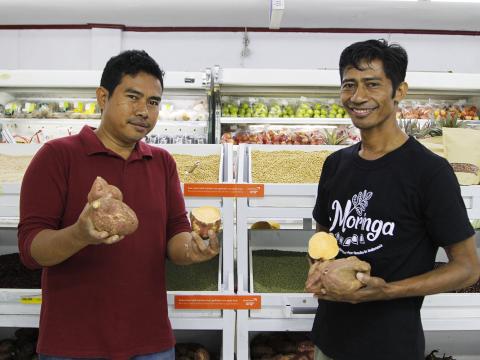 Leader supermarket and World Vision support Bobonaro farmers to increase local produce
Wednesday, September 25, 2019
Dili, Timor-Leste, September 25, 2019 — World Vision has established an agreement with Leader supermarket in Dili to purchase agricultural produce from farmers in Bobonaro. The aim is to encourage farmers to increase their local food production and their incomes. 
Leader supermarket will now purchase produce every two weeks from communities in Bobonaro, including red kidney beans, soybeans, mung beans, orange sweet potato, moringa leaves and eggs. World Vision promotes these highly nutritious superfoods to Bobonaro farmers through its Better Food Better Health project.
Customers who shop at Leader supermarket will see signs indicating which produce comes directly from the World Vision-supported farmers. 
Recently, a Leader supermarket truck with the words 'Better Food for Our Lives' written on it pulled into a community in Bobonaro. When the vehicle arrived, the local children screamed, "Car, car, car from Dili is coming to buy local food from our parents!" 
Bobonaro farmer and Unidade farmer's group leader, Basilio, aged 48, shared his experience of selling produce to Leader supermarket. "This is the first time I have sold my produce to Leader supermarket directly. I am very happy to grow more to sell because the price is guaranteed. I believe these local foods are fresh and the nutritional value is high. I sold Leader 500 kilograms of produce and 100 eggs with a total income of US$685," he said.
Leader supermarket manager, Teofilho da Silva said, "We are really appreciative that we are building a good relationship with World Vision because they mobilise farmers to grow and sell their local products to us, and they have trained them well. I would like to thank World Vision as they have helped us, as well as farmers of Timor-Leste, to transport their local produce to our supermarket," he said.
"Through this partnership with Leader supermarket, we hope that more farmers in Timor-Leste can increase their incomes," said Fabiano Franz, World Vision in Timor-Leste's Country Director. "By growing, eating and selling superfoods, families can improve their children's nutrition. We're very happy that families now have better access to nutritious foods which will help children grow up healthier and stronger." 
World Vision was one of the first non-government organisations to link local farmers to supermarkets in Timor-Leste. The partnership started assisting farmers in Aileu in 2012.
World Vision's Better Food Better Health project helps increase superfood production for families to eat, and connects farmers with supermarkets, local markets, kiosks and restaurants to sell. Through its nutrition-sensitive agriculture approach, World Vision aims to improve the nutrition of children and mothers by supporting rural families to grow, eat and sell locally available, nutritious superfoods in Aileu, Baucau, Bobonaro and Covalima municipalities. 
The project is supported by the Australian Government through the Australian NGO Cooperation Program (ANCP).
Media contact: 

Jaime dos Reis
Senior Advocacy and Communications Coordinator
Mobile: +670 7738-0585
Email: jaime_dosreis@wvi.org 
Antonio Moniz do Rosario
Advocacy and External Engagement Manager 
Mobile: +670 7756-8535
Email: Antonio_MonizdoRosario@wvi.org