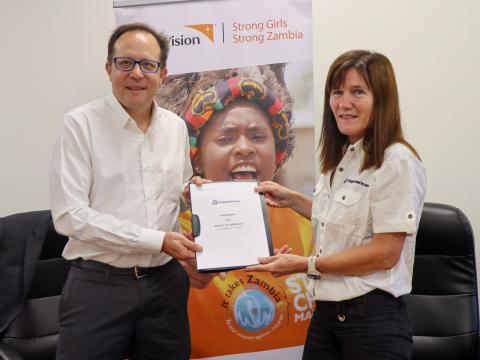 Anglo-American partners with World Vision in Zambia to improve access to education
Wednesday, May 3, 2023
Anglo-American today launched a collaboration with the global humanitarian organization, World Vision, to help improve access to education for 160 high school-aged girls in the Lyovu-Kasesi rural district in Zambia's North-Western Province, located near an area where Anglo-American is conducting mineral exploration activities.
The partnership project, funded by Anglo American, aims to upgrade boarding facilities at the state-owned Lyovu Secondary School in order to increase access to quality secondary education for vulnerable girls. This support aligns with the Zambian government's efforts to promote access to quality education for girls, particularly in the Zambezi district, which has 82 primary schools compared with 14 secondary schools, making it difficult for most learners to transition to senior education.
Education is an integral component of Anglo American's Sustainable Mining Plan, which sets out a holistic range of ambitious goals that are shaping how our stakeholders experience our business. These include how we can best support Thriving Communities through better health, education and employment outcomes for communities around where we operate.  The project is also expected to increase access to secondary education through improved dormitory space and sanitation and hygiene facilities at Lyovu Secondary School while reducing the long-distance girls often have to travel to and from school.
"Supporting access to excellent education and training to the children in our host communities is an essential gateway to tertiary education and will ultimately help increase the employability of young people – and the opportunities available to them – throughout their lives. Partnering with World Vision enables us to contribute to the futures of 160 girls who will have access to high-quality boarding facilities as part of their education experience," said Adriana Blesa, Anglo American's Discovery Manager for Zambia.
The Ministry of Education in Zambia has made considerable gains in providing access to primary education; however, existing secondary school facilities have limited capacity to absorb learners from primary schools.  As a result, there is a pressing need for improved or additional facilities.
"With almost 200 girls in the district dropping out of school in the past year due to teenage pregnancy, child marriage, cultural practices, long distance, and poverty, this project will contribute towards World Vision Zambia's efforts to tackle the problem of child marriages in Zambia through the Strong Girls Strong Zambia project running from 2022 to 2025," said John Hasse, Chief Executive Officer and National Director at World Vision.
Forming part of its global greenfield discovery projects, Anglo American continues to conduct exploration activity in Zambia to identify potential opportunities in copper and cobalt. The company recently entered a joint venture agreement with the Aim-listed Arc Minerals plc. Once the conditions of the transaction are satisfied, Anglo American will have the right to retain up to 70% shareholding in the Joint Venture company holding a number of licenses to explore Zambia's North-Western province for copper and cobalt.
"From mineral discovery activity right through to marketing our future-enabling products to customers, Anglo American is committed to creating enduring value for society. Despite being in the early stages of exploration in Zambia, we believe in delivering a positive impact without delay.
"This is the right thing for local people, regardless of the outcome of our preliminary exploration on future mining activities," concluded Adriana Blesa, Anglo American's Discovery Manager in Zambia.
For more details contact:
Sally Namutowe
Local Fundraising and Communications Associate Director
Email: Sally_Namutowe@wvi.org
Zambia
Gillian Langmead
Langmead & Baker Ltd
Tel: +260979 060705
Notes to editors:
Anglo American is a leading global mining company and our products are the essential ingredients in almost every aspect of modern life. Our portfolio of world-class competitive operations, with a broad range of future development options, provides many of the future-enabling metals and minerals for a cleaner, greener, more sustainable world and that meet the fast growing every day demands of billions of consumers. With our people at the heart of our business, we use innovative practices and the latest technologies to discover new resources and to mine, process, move and market our products to our customers – safely and sustainably.
World Vision Zambia
World Vision began working in Zambia in 1981 with three community development projects in Northern Lusaka. Today, World Vision Zambia Limited (WVZL) works in over 50 districts across ten provinces to serve vulnerable children and communities in the country.
Through Area Programmes (AP) and grant projects, WVZL focuses on key areas of education, health, livelihood, water and sanitation, child protection and spiritual nurture. Children are at the heart of our work. With a workforce of over 500 professional staff and an annual budget of approximately US$40 million, WVZL works closely with communities, partners, and the Government of the Republic of Zambia to ensure vulnerable children live life in all of its fullness.
For more details about World Vision Zambia Limited, visit (https://www.worldvision.co.zm/ , htps://www.wvi.org/zambia)