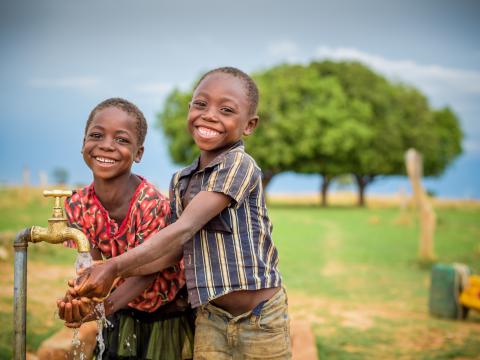 Water, Sanitation and Hygiene
What we want to do:
We want to see all children enjoy access to clean water and improved sanitation facilities close to their homes so that they can stay well. We are working towards this by:
Ensuring safe and equitable access to clean water for all

Increasing the number of households with access to improved sanitation facilities

Ensuring all families know the importance of and use proper hygiene practices
What is the problem?
Access to clean water is unequal. In Zambia, 90 percent of households in urban areas have access to safe water compared to only 53 percent of households in rural areas.
Urban areas also have higher access to sanitation at 70 percent, compared to rural populations, whose access is only at 25 percent. Limited access to water; sanitation and hygiene (WASH) are the main causes of infections, such diarrhoea in the country. Inadequate WASH facilities and practices continues to be the leading cause of death of children under the age of 5 in Zambia (ZDHS, 2014).
Our Water, Sanitation, and Hygiene (WASH) work is the foundation for all other areas of intervention in Zambia. Without adequate water and sanitation, children cannot attend school, their health is compromised, livelihoods are threatened and children are often vulnerable to external threats while collecting water.
How is World Vision addressing the issues?
To ensure that every vulnerable child and community has access to safe drinking water; World Vision in Zambia drills boreholes in areas without adequate protected water sources and rehabilitates nonfunctioning boreholes to improve access.
To improve sanitation and hygiene practices, World Vision Zambia works with existing local structures such as schools and health facilities to deliver hygiene programmes.
World Vision in Zambia also works with local leaders such as chiefs, Civil Leaders and churches to deliver hygiene messages on behaviour change practices in communities using the Community-Led Total Sanitation (CLTS) and Participatory Hygiene and Sanitation Transformation (PHAST) methodologies. This has resulted in communities being certified open defecation free.
In Zambia, we are committed to attaining Universal Access to clean water in all the areas we are working in by 2030, thus strengthening other focus areas to achieve their goals.
Is what World Vision doing working?
Yes! World Vision International is reaching one new person with clean water every I0 seconds and reaches three more schools every day with clean water. In 2018 alone, World Vision Zambia reached 133,200 people with safe clean water.
What's the impact?*
126,055 people in 19 districts gained access to household sanitation facilities building on the 196,578 who gained access to these facilities in 2017.

257 new boreholes with hand pumps were drilled in 2018, adding to the to 243 boreholes that were drilled in 2017.

44 non-functional water points were rehabilitated and 331 tap stands from piped water supply systems were installed.

43 Communities were certified open defecation free while 16,077 Households installed handwashing facilities.
*In 2018