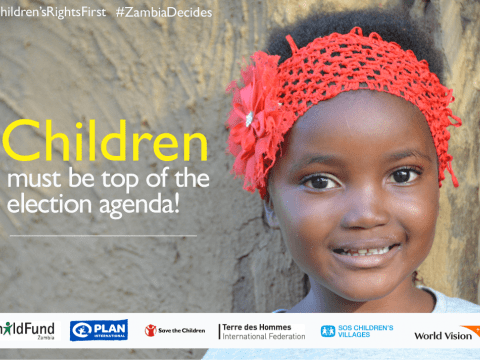 Measures to address Sexual Gender-Based Violence Against Children must be on the election agenda
Friday, July 30, 2021
With barely 12 days to the anticipated general elections, the second quarter Gender-Based Violence (GBV) report from the Zambia Police Service is a sad reminder to those vying for political office to share their plans on how they will address Sexual Gender-Based Violence against children.
The Zambia Police Report revealed that 576 children (571 girls, 5 boys) reported being defiled in the second quarter of 2021. This is an increase of over 10% from the first quarter of 2021. These figures translate to an average of one child reporting being defiled every 3 hours 47 minutes. We note that these statistics refer only to those cases that have been reported to the police, so there may be many more children in Zambia who have experienced violence but have not reported it. With the prolonged school closures, violence against boys and girls may escalate and worsen the pupils' already constrained social, health and psychological well-being and have far-reaching long-term impacts.
We call upon those vying for political office in the upcoming general election to prioritise discussions on how they will address this heinous form of violence against children. We are calling for:
Presidential aspirants to prioritise children and gender issues in the way they will spend public resources. The national budget must prioritise expenditure towards expanding the availability of GBV Fast Track courts and the full operationalisation of the Anti-GBV Fund as outlined in the anti-GBV Act of 2011. The quality investment will also ensure a holistic government response to all forms of GBV is implemented.

Those vying for seats in our national parliament must advance the agenda for a child-friendly national legislative environment in Zambia. We want to see the enactment of the draft Children's Code Bill and the long-overdue review of the 2011 Anti-GBV Act at the top of the agenda for the next legislative body.

Local council election candidates to prioritise the development of safe spaces and recreation facilities for children at the community level.

Candidates to inform the nation on how they will prioritise age- and gender-sensitive mental health and psychosocial support to children and their parents or caregivers who are at risk of or have, experienced violence – especially for the most vulnerable children.
In addition, we call on:
Communities, especially adults and caregivers, to take full responsibility to guarantee the protection of all children from all forms of violence and uphold zero tolerance especially for sexual violence against children. Adults must give children the confidence to report abuse.

Service providers (Responsible Government Ministries, CSOs and other actors) to support at-risk and affected children with appropriate, gender, child-friendly information and support. This information must help affected children understand GBV risks, where to report abuses and how to access emergency medical and psychological needs upon incidences of abuse.
In conclusion, we are calling for an uncompromising determination from all actors to put in place the concrete measures listed above that will address sexual gender-based violence against children. As a nation, our efforts to achieve child well-being will be greatly undermined if we do not tackle Sexual Gender-Based Violence and we will fail to live up to the principles we have signed up for under the Convention on the Rights of the Child.
For more information, please contact:
Notes to the Editor:
In 2017, the six largest child-focused agencies: ChildFund International, Plan International, Save the Children International, SOS Children's Villages Zambia, Terre des Hommes International Federation, and World Vision International joined forces. We aim to use our collective power to accelerate change to secure children their rights and end violence against them. We will pilot and scale innovative and effective approaches worldwide and be driven by the voices and needs of children.