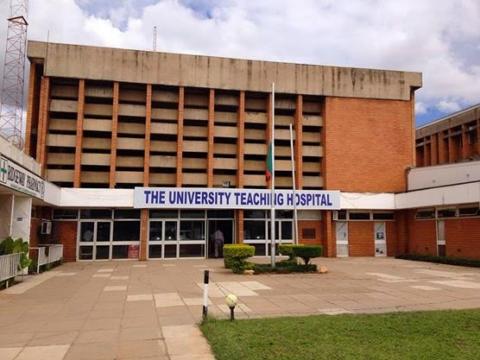 World Vision to procure 10 weeks' oxygen supply for local hospitals for management of COVID-19 cases
Sunday, February 14, 2021
For Immediate Release                                                                    
Thursday 11th February 2021, Lusaka - Zambia - World Vision will procure 10 weeks of oxygen supply for the Ministry of Health, to support the Government's management of COVID-19 cases recorded in the second wave of the pandemic that has claimed many lives.
The organisation notes that the supply of oxygen is timely because the country has seen an increase in the number of COVID-19 patients requiring oxygen treatment. The 10 weeks' supply of oxygen will address the challenge of oxygen depletion in hospitals and will undoubtedly save precious lives.
Statistics from the Ministry of Health show that the second wave of the COVID-19 pandemic is more severe, resulting in more COVID-19 positive cases recorded daily and more people in urgent need of oxygen support. Cases recorded in January alone surpassed the number of cases recorded between March and December 2020, consequently stressing the workforce and existing machinery in hospitals, and resulting in depletion of oxygen required to keep patients alive.
The oxygen donation is meant to support Levy Mwanawasa General Hospital and University Teaching Hospital (UTH) to treat COVID-19 patients at the two institutions. World Vision will also assist provincial referral hospitals, i.e., Kasama, Choma, Kabwe, Chipata, and Solwezi, with equipment and tools for COVID-19 prevention.
"World Vision will continue to support the Zambian Government's efforts in the fight against the pandemic. Our positive response to the Government's request to support it with equipment and tools for the main COVID-19 isolation and treatment hospitals is testimony to that commitment," says John Hasse, World Vision's National Director for Zambia. "At the community level, World Vision supports a community-based approach to the fight against COVID-19 through community engagement, mass community sensitisation, and the promotion of hand-washing sanitisation actions to improve hygiene practices and bring behavioural change," he adds.
Mr. Hasse also shares that the supply of oxygen to the Ministry of Health will cost US$65,000. He further adds that World Vision dedicated over US $3.1 million in 2020 under the COVID-19 response, of which US $2.7 million came from repurposed internal funding, while US$ 400,000 was from its collaborating partners.
"In 2020, World Vision directly reached 1.7 million people with behaviour change information; supported 715 schools and 220 health facilities with Personal Protective Equipment and hygiene materials, and trained over 3,600 community health workers. Further, over 3,000 faith and traditional leaders were oriented on community-level COVID-19 prevention and adherence, and 7,000 teachers trained to promote remote learning. World Vision also provided 86,000 education materials to teachers, and supported 91,000 with child protection programming", John Hasse says.
In 2021, World Vision plans to spend approximately US $1 million from internal funding on COVID-19 interventions and will also engage corporate entities and other partners to support the response.