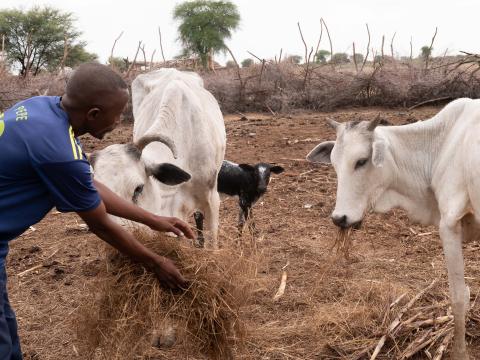 Livelihoods & Agricultural Infrastructure Development Project Factsheet
Tuesday, July 27, 2021
World Vision is implementing a multi-year KFW Development Bank-funded 'Livelihoods and Agricultural Infrastructure Development' (LAID) project in South Darfur state. If all goes according to plan, it is hoped that the project will contribute to increasing stability and economic well-being of conflict affected and vulnerable communities.
By 2026, the project hopes to have directly contributed to the well-being of over 220,000 people across the five targeted locations in South Darfur state.
There are four priority areas to achieve this goal: 
Rural agricultural livelihoods support through production, processing and marketing of selected high-value products dairy and honey farming, construction of feeder roads to facilitate connection to markets, and construction of processing and marketing centres.
Agricultural infrastructure support through construction of water harvesting structures for livestock watering, and facilitation of inter-community dialogue sessions to promote equal resources sharing.
Strengthening and diversifying on-farm livelihoods through installation of irrigation infrastructure, marketing of high-value agricultural products.
Provision of basic livestock health care service infrastructure through construction and equipping of veterinary clinics, capacity building of Community Animal Health Workers, support to boost livestock and milk productivity and artificial Insemination support.