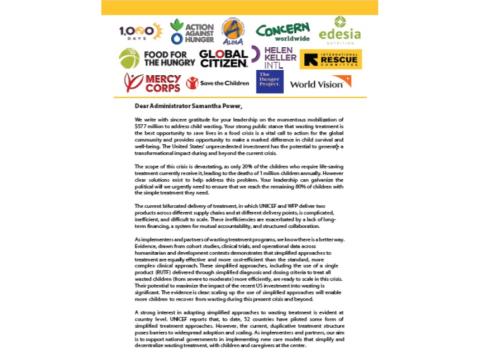 World Vision and peer organizations provide recommendations for scaling up child wasting treatment
Thursday, January 12, 2023
Wasting, or acute malnutrition, is deadly. Children with severe forms of wasting are nearly 12 times more likely to die than well-nourished children. Severe wasting accounts for more than 1 million child deaths each year, and only 1 in 3 children receive the treatment they require. Supporting evidence-based, country-led action plans is critical to reaching every child. 
Since July 2022, the United States led the mobilization of $577 million to address child wasting. Levels of severe wasting in children around the world continue to rise due to climate change, conflict and rising food prices. 
World Vision, together with 12 peer organizations, wrote to USAID Administrator Samantha Power to welcome the US investment to treat child wasting. The letter outlines five steps that US leadership can take to ensure investment in wasting has a transformational impact, and how current and future investments can be maximized to close the treatment gap and save children's lives.
Read a recent report about World Vision's journey to end child wasting, which began in 2005 in Niger. 
Learn more about how World Vision addresses wasting through Community-based Management of Acute Malnutrition (CMAM). 
Learn about World Vision's Global Hunger Response.