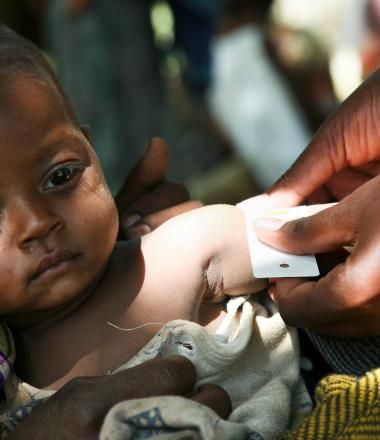 NUTRITION
Community-based Management of Acute Malnutrition
Addressing Acute Malnutrition
Acute malnutrition, also called 'wasting', is signalled by an appearance of thinness – it develops as a result of recent rapid weight loss or failure to gain weight. Acute malnutrition is associated with critical events where food supplies are disrupted or disease outbreaks are experienced.
World Vision treated over 118,242 children with acute malnutrition in 2017 (fiscal year 1 October 2016 to 30 September 2017).
Acute malnutrition causes approximately one million child deaths every year, either directly through severe malnutrition or indirectly by weakening the immune system, thus increasing mortality in children suffering from common illnesses such as diarrhoea and pneumonia. Globally, an estimated 10 to 13% of children under five years of age suffer from acute malnutrition.
This condition is not only a problem in humanitarian emergencies, but is also common in situations of chronic food insecurity, or where access to health care is limited.
World Vision's programmes focus on the prevention and treatment of acute malnutrition, both in fragile and stable contexts in 16 countries, half of which are in the top 20 fragile states. World Vision uses the Community-based Management of Acute Malnutrition (CMAM) model, which strengthens communities to both identify and treat malnourished children.
World Vision treated 118,242 children with acute malnutrition in fiscal year 2017 (1 October 2016 to 30 September 2017). 

Innovations
World Vision is piloting the innovative Mother-led MUAC approach in Mauritania. Learn more!
World Vision developed and deployed an mHealth application (app) for acute malnutrition in over 100 health facilities across five countries: Afghanistan, Niger, Chad, Mali, and Kenya. Along with implementing partners Save the Children and International Medical Corps, an evaluation of the CMAM mHealth app in Niger, Chad, Mali and Kenya was completed in FY16. Developing inter-operability between the government health management information system (HMIS) and the mobile app is the next step. Learn more about this innovative m-Health app and about World Vision's work in mHealth!

Community-Based Management of Acute Malnutrition (2006–present)
While World Vision seeks to prevent acute malnutrition through multi-sectoral community development and targeted nutrition interventions, acute malnutrition still persists in far too many communities around the world. World Vision uses the Community-based Management of Acute Malnutrition (CMAM) model to address this issue.
The map below shows areas where World Vision is currently implementing CMAM (brown) and where CMAM was implemented in the past (red).          
Countries implementing CMAM: Afghanistan, Angola, Central African Republic, Chad, Ethiopia, Kenya, Malawi, Mali, Mauritania, Mozambique, Niger, Senegal, Somalia, South Sudan, Sudan, Tanzania
CMAM uses a case-finding and triage approach to provide nutrition and medical care to acutely malnourished children, according to their individual needs. Most children can be treated within their own homes with Ready-to-Use Therapeutic Foods distributed by the Outpatient Therapeutic Programme (OTP); those who have medical complications or lack an appetite are referred to in-patient stabilisation centres for more intensive treatment. Families of all CMAM participants, as well as children with moderate malnutrition, receive supplementary food rations to help prevent a decline in nutritional status. CMAM programmes also work to integrate treatment with a variety of other longer-term interventions that are designed to reduce the incidence of malnutrition, and improve public health and food security in a sustainable manner.
For further details on how CMAM works, please visit the CMAM Project Model page. 

Related Articles & Resources
Have a look at World Vision's CMAM Impact Evaluation Report
Learn more about an innovative CMAM project using Community Health Activists, based on the Community Case Management approach, which was implemented by World Vision in Angola. Emergency Nutrition Network published an article about this approach, entitled Community Case Management Approach to SAM Treatment in Angola
Read article on Successful CMAM Programming in Tara, Chad to be Scaled Up
CMAM Toolkit: Rapid start-up resources for emergency nutrition personnel (Save the Children, 2012)
Training Guide for CMAM (FANTA, 2009)
Updates on the Management of SAM in Infants and Children (WHO, 2013)

Ready-to-Use Therapeutic Foods (RUTF)
RUTF stands for Ready-to-Use Therapeutic Food. It is a high-energy, high-protein food with added electrolytes, minerals and vitamins, specifically designed for treating severely malnourished children. Developed as a peanut paste, it does not have to be mixed with water, so it is hygienically safe for the children and can be stored for long periods. Originally developed by Nutriset in France (which branded it Plumpynut), it is now also produced in other countries under other trade names.
In countries with high malnutrition rates, local production of RUTF is encouraged, because importing Plumpynut is more expensive, especially if import taxes are not waived.
In the face of the increasing demand for RUTF in the treatment of severe acute malnutrition (SAM) and businesses approaching WV for the use of their RUTF products in the field, WV needs to exercise due diligence when considering partnerships with producers of RUTF products from a new source. As a child-focused organisation, WV takes seriously any potential risk of harm to the lives of the children that WV is treating from distributing inappropriate product through WV programmes. Accordingly, World Vision's Nutrition Centre of Expertise developed internal procedures and guidelines which will govern the use of such products in the organisation: Guidelines for the Selection and Use of New RUTF Products in World Vision Programmes.  
World Vision presented a poster entitled The business of RUTF product development and the lack of global certification standards: World Vision's experience in developing internal guidelines for selection and use of new RUTF suppliers at a Severe Acute Malnutrition conference hosted by ACF in 2013.

Cost of Programming
The financial cost to address acute malnutrition is high, usually because there is a lack of functioning infrastructure, trained staff and health services, and limited food availability in these areas. Cost analysis for CMAM suggests that the cost savings associated with this approach are both direct and indirect. Outreach and case finding are almost exclusively done by volunteers and community members. Since malnourished children are found and treated early, before complications can occur, only 10 to 15% required costly inpatient treatment.
The resources required for a CMAM programme can vary significantly, depending on the context, and affect the budget accordingly. Important variables to consider include:
geographical spread and density of malnourished children – greater spread and small density will lead to increased costs
amount of basic infrastructure available
existing health and logistic infrastructure and staff
rate of recovery of children
quality of roads and therefore cost of transport
availability of storage at CMAM distribution sites
number of CMAM components implemented in partnership with World Vision (SFP, OTP, etc.)
local production possibilities available – reduces import and tax costs
technical capacity building required by World Vision National Office.
These variations are reflected in the table below, which provides a few examples of the average cost per beneficiary of a selection of World Vision CMAM programmes.
Programme costs include costs for all items used directly for programme beneficiaries (eg, weighing equipment, supplementary foods), costs for outreach and distribution staffing, and overheads. [Non-World Vision data from Valid International (2004), ENN Special Supplement – CTC.]  FANTA has produced an excel-based CMAM costing tool.