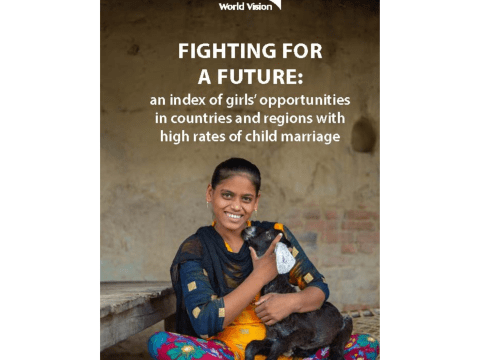 Fighting for a Future - girls' opportunities
Wednesday, October 5, 2022
What kind of opportunities can a child expect in life? Every child deserves to be loved, cared for, free from the threat of violence, and have the ability to fulfil their potential through exercising their agency, pursuing their education, and making choices in how to earn and spend money.
However, due to entrenched gender norms and societal practices, girls are particularly at risk of living in an environment where many of their God-given rights are taken away from them.
Child marriage is perhaps the most blatant sign of this. Every year, approximately 12 million girls are married before they reach the age of 18, robbing them of the opportunity to reach their full potential. Child marriage can result in early pregnancy (with associated serious health risks) and social isolation, interrupt schooling, limit opportunities for career and vocational advancement, and place girls at increased risk of domestic violence.
Since 2020, women and girls have also been disproportionately affected by the COVID-19 pandemic, which has widened global inequities and undone some of the gains in women's rights and opportunities that had been achieved since 1990. Before the pandemic, more than 100 million girls worldwide were expected to marry before their eighteenth birthday in the next decade. Now, the number of girls subjected to child marriage by 2035 is expected to grow by an additional 10 million as the impacts of pandemic lockdowns and the current economic and hunger crises are felt.
Recent studies have increasingly demonstrated the importance of girls' and their families' perceptions of their opportunities. If a girl and her family do not think she has the possibility to pursue an education, work in a well-paid, professional job, or if they perceive that her risk of never marrying is high unless she does so early – then their choices about whether or not she should marry will be constrained by these perceived trade-offs.
Often a young girl's opportunity is dependent on the family, community and country in which she is born. However, evidence shows that when women are given agency and their rights are recognised – for instance, the right to work, and when those women have the power to decide how and where to use it - their lives and the lives of their families are better.
Ahead of Day of the Girl child this year, World Vision has created a Girls' Opportunity Index, which explores what opportunities girls can expect to have in the 20 countries with the highest rates of child marriage worldwide, and analysed the relationship between these opportunities and their likelihood of marrying before their 18th birthday. Opportunity, as conceived in this index, is based on a girl's well-being and access to healthcare, education, ability to make choices for herself, ability to work and manage her own money, and legal rights and representation. Around the world, girls are subject to a vicious cycle in which those living in contexts with little opportunity are more prone to child marriage, which in turn leads to fewer opportunities for not only them, but their children, too.