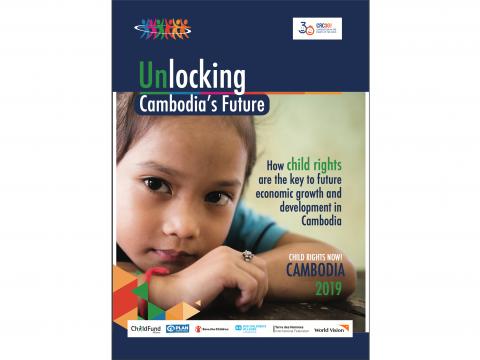 Unlocking Cambodia's Future: How child rights are the key to future economic growth and development in Cambodia
Tuesday, November 19, 2019
On the 20th November 1989, global leaders made a historic commitment to the world's children by adopting the United Nations Convention on the Rights of the Child (UNCRC). The Kingdom of Cambodia ratified it in 1992 and has since worked to guarantee these rights to all children in the country. 
30 years later, significant progress has been made, from health to education, in the realization of these rights. As a result, the lives of thousands of children have been saved and the wellbeing of millions has increased dramatically, redefining what it means to be a child growing up in Cambodia and boosting the economy growth and development of the Kingdom. 
Joining Forces, an alliance of the 6 largest global children's organizations, presents in its new report Unlocking Cambodia's Future how child rights are the key to future economic growth and development in Cambodia. However, the inequitable share of the benefits of the progress achieved over the last 30 years and new and emerging challenges are threatening further progress on child rights in Cambodia.
The report identifies 6 priority areas for investment in children that will not only ensure that Cambodian children reach their full potential in life but that will also make a major contribution to the achievement of the country's ambitious development objectives.